Jose Mourinho content not being hero among Real Madrid fans
Last updated on .From the section Football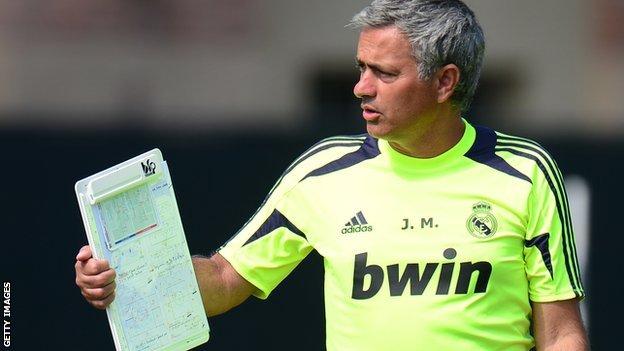 Real Madrid manager Jose Mourinho admits he is happy to not always be a hero at the club but has called on supporters of the Spanish giants not to put added pressure on his players.
Club legend Iker Casillas was dropped for the second game in a row as Madrid beat Real Sociedad 4-3 on Sunday.
Mourinho was met with crowd whistles as his name was read out before kick-off.
"I do not like to always be in a comfortable situation or be a hero forever," said the former Chelsea boss.
Casillas, who was also dropped for the 3-2 defeat by Malaga two weeks earlier, came off the bench after just six minutes on Sunday as his replacement Antonio Adan was sent off.
The Madrid goalkeeper had also been cheered by the home fans at the Bernabeu when his name was read out before the game.
While Mourinho does not mind being the villain, he believes the pre-match whistles directed at him were disrespectful towards Adan.
"If they whistle me for leaving Iker on the bench, fine, and if they whistle me for poor performances, that's OK by me," said Mourinho, who is under pressure because Madrid trail La Liga leaders Barcelona by 16 points.
"The fans and the media don't have a problem with Adan, they have a problem with me for my decision, but Adan suffers for this pressure.
"I think it shows a lack of respect towards Adan. He has been at Madrid 16 years, he came through the youth ranks and he has the right to be happy.
"The media have turned a problem with Mourinho into a lack of respect towards Adan."