Wesley Sneijder seeks escape from Inter Milan exile
Last updated on .From the section Football251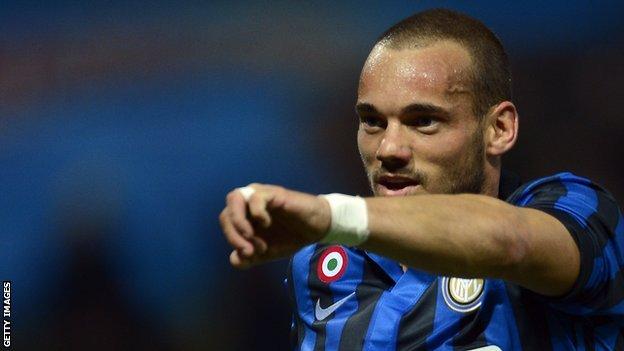 They used to say Wesley Sneijder could walk into any side in the world. Now it seems he can't get a game anywhere.
The 28-year-old Dutch playmaker last appeared for Inter Milan on 25 September, despite being fit for the last two months.
And top clubs around Europe are well aware of his availability, yet no-one has made an offer for his services.
It's one of the great conundrums of European football - how can a player go from most-coveted to not wanted in the space of 18 months?
The issue clearly isn't ability. Sneijder has proven himself one of the best number 10s in world football and, according to his Inter team-mates, has been back to his best in training recently.
And it isn't his age, because at 28 he should be in his prime.
Rather it is the size of his pay packet and Inter's determination, like that of many other clubs, to balance their books.
Rewind to Autumn 2010 and Sneijder's status as the top midfielder in the world was almost unchallenged. He was the creative pivot of a Jose Mourinho side that swept to an unprecedented treble of Italian league, cup and Champions League, before inspiring Netherlands to reach the World Cup final.
Aware of interest from other clubs and desperate to hang on to the services of their key player, Inter offered Sneijder a five-year contract worth £4.8m-a-season (6m euros), plus an £800,000 (1m euros) annual bonus.
Soon they started to regret their generosity. Firstly, Sneijder was hampered by injuries and failed to rediscover his peak form of 2010.
And, more importantly, Inter realised they had to slash their wage bill in order to comply with Uefa's financial fair play regulations. Either that or they could be excluded from the Champions League.
They managed to offload big earners such as Samuel Eto'o, Maicon and Julio Cesar but the biggest earner remained and they decided drastic action was needed.
In November, sporting director Marco Branca told Sneijder he would not play for the club again unless he agreed to reduce his wages by £1.6m-a-season and halve his annual bonus.
The midfielder refused, meaning he is currently kicking his heels on the sidelines in Milan.
His agent, Soren Lerby, told BBC Sport: "This is a very, very strange situation for all of us. It's not right that a footballer of this calibre is not playing, and that the crowds are not able to watch him.
"Wes just loves to play football and we need to find a solution."
Lerby, the former Ajax, Bayern Munich and Denmark midfielder, insists Sneijder is still one of the finest players in world football. After all, he is completely two-footed and has vision, a superb range of passing and a very good goalscoring record. Couple this with personality, tenacity and leadership skills and you have quite a player.
Many clubs would undoubtedly be interested in his services were it not for the fact Inter want a transfer fee of at least £12m which, coupled with his wages, has put off potential suitors.
Sneijder's camp are pushing for the player to be allowed to leave on a free, or at least a small fee, which they believe would encourage clubs to bid for him.
The Italian side have refused, hence the current impasse.
Inter are likely to have to compromise before the end of January though. After all, paying big wages for someone who isn't even playing hardly makes good financial sense.
And they could face the prospect of losing the player on a free transfer at the end of the season if they don't take action.
Article 15 of the Fifa regulations for the "status and transfer of players" states that an "established professional" who has not played in at least 10% of his club's official matches may terminate his contract prematurely.
So far, Sneijder has played in only five Inter matches this season, which would be well short of the 10% figure if he doesn't play before the end of the season. Losing the player on a free is not something Inter want to countenance.
The Dutchman, who came close to joining Manchester United in the summer of 2011, is privately keen on a move to England.
And Lerby admits: "The Premier League is the top league in Europe, so of course it would appeal, but Wes would want to play for a top team."
Sjaak Swart, known as "Mr Ajax" after playing 461 games and winning three European Cups with the Dutch club, now works for Lerby's Essel Sports Management and has known Sneijder since he was a 15-year-old coming through the ranks at Ajax.
"Wes is waiting for a big club, not one in 14th or 15th place," Swart told BBC Sport. "He is fit and ready and is still the same Wes.
"When you are a top, top player, your ability doesn't just disappear overnight and you have to remember he is only still just 28."
It is a prospect which means we might see Sneijder playing in the Premier League after the January transfer window has closed.