AFC Telford: Andy Sinton's targets put off by part-time set-up
Last updated on .From the section Football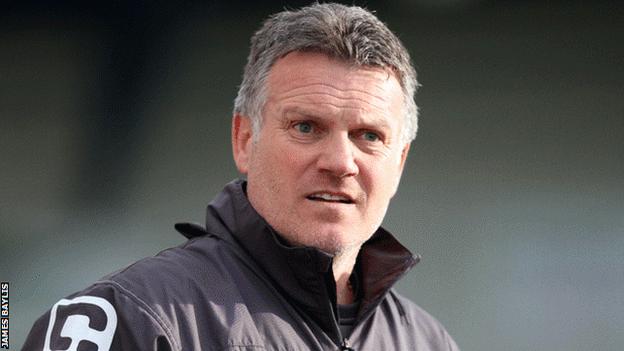 Frustrated AFC Telford United manager Andy Sinton admits the club's finances are restricting his attempts to bring in the new players he wants.
The Bucks are one of only four Blue Square Bet Premier clubs who operate on a part-time basis and Sinton believes that is turning off potential targets.
"The players that I want who I think will strengthen us don't want to come as we are part time," he said.
"Or we can't afford them. They cost too much," he told BBC Radio Shropshire.
"They're the same players who started the season so well but who obviously can't sustain it and I have to do something about it, but I can only do that if I can get the right people in.
"We've got the hand we've been dealt."
Sinton can however call again on striker Steve Jones, who is set to return at Hereford on Tuesday night after completing a four-match suspension.
And, although the Bucks will be up against Chris Sharp, the striker they sold to Hereford on New Year's Day, Sinton remains convinced that one victory would turn things round - after slipping into the bottom four on Saturday for the first time this season.
"It's really tough at the moment," admitted the Telford manager. "Confidence is really low.
"But we'll roll up our sleeves and try and get that win which would do everybody good.
"I've been in the game long enough and I know it's understandable that the fans are frustrated. They want to see us win. And we've got to keep believing that we can turn it around.
"But I'm working as hard as I can, doing the best I can, working as hard I can to play with the hand that's been dealt me.
"I'm the man. That's not in doubt from my own point of view. Whether other people are doubting that, I can't stop what other people are thinking."
Telford's finances are at least helped by the fact that they still host reserve games for neighbours Wolverhampton Wanderers.
Wolves' next Under-21 Premier League Elite Group fixture at the Bucks Head is against Manchester United on Monday, 21 January (19:00 GMT).