Pep Guardiola: Former Barcelona boss ready to return to coaching
Last updated on .From the section Football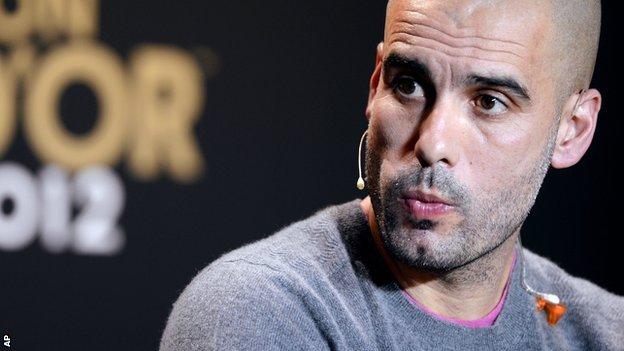 Former Barcelona manager Pep Guardiola says he is ready to return to coaching following his seven-month sabbatical from the game.
The 41-year-old, who guided Barca to 14 trophies in four seasons at the Nou Camp, is looking for a new job but says he has no specific destination in mind.
"I have taken a decision to return to coaching but beyond that no decision has been taken," he said.
"I don't have a team to go to but I would like to go back to coaching."
Guardiola has been linked to numerous jobs since stepping down from his role at Barcelona, with Manchester United manager Sir Alex Ferguson naming the former Spain midfielder as one of his potential successors at Old Trafford, while Chelsea have also been linked with him.
The former Fifa world coach of the year, who has also been linked with German club Bayern Munich, said it would be a "lack of respect" to talk about any team which currently has a coach and denied he was in contention to lead hosts Brazil at the 2014 World Cup.
Ex-Chelsea manager Luiz Felipe Scolari was appointed for a second spell in charge last month, and Guardiola said: "I think it has to be someone from their own country. Scolari is one of many world-class coaches from Brazil."
Guardiola has been living in New York since leaving Spain but says he still follows the progress of Barcelona closely.
"I keep on watching Barcelona on TV and it's a great show, a great team and I'm just a fan," he added at a news conference at the Fifa Ballon d'Or gala in Zurich, where his former player Lionel Messi won a record fourth world player of the year title.