Blackburn apologise to Sam Allardyce over Steve Kean claims
Last updated on .From the section Football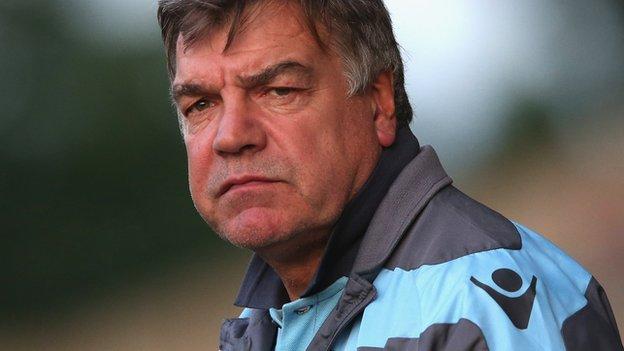 Blackburn have apologised to former manager Sam Allardyce over alleged comments by his successor Steve Kean.
The West Ham manager is taking legal action over claims made during a pre-season tour of Hong Kong in 2011.
"Mr Kean was in a bar and falsely alleged that Sam Allardyce was sacked because he was a crook," Blackburn said in a statement.
"This is completely false and we apologise to Mr Allardyce for the embarrassment and distress caused."
The matter came to light after a video was uploaded to YouTube in the summer. It appeared to show Kean making unguarded remarks about Allardyce to supporters.
Allardyce
The case was filed at the High Court in London on 12 July.
Kean's representatives SEM Group said a settlement had now been reached, but the terms were confidential. SEM added that Kean would also be making a public statement on the matter.
A spokesman for Allardyce said: "The settlement is confidential and we have all signed to that effect. Therefore, we are unable to comment."
Speaking after West Ham's 2-2 FA Cup third-round draw with Manchester United on Saturday, Allardyce had said he was close to an agreement over his damages claim.
Kean replaced Allardyce as Blackburn boss in December 2010, but stepped down in September following the club's relegation to the Championship after claiming