Marouane Fellaini apologised for penalty, says Cheltenham captain
Last updated on .From the section Football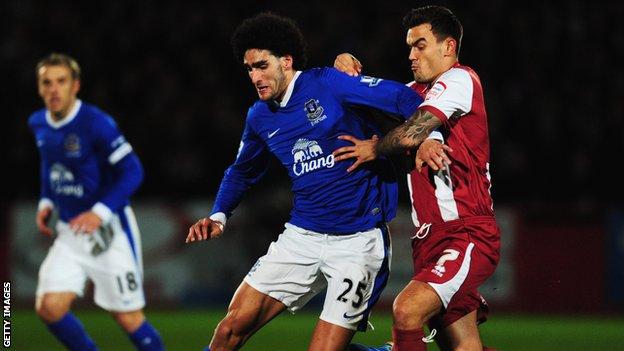 Cheltenham captain Alan Bennett has revealed Everton midfielder Marouane Fellaini said sorry to him for the penalty given in their 5-1 FA Cup win.
The Robins captain was penalised by the referee for climbing over Fellaini as he tried to head away a cross.
"Fellaini at the end apologised to me, he said 'sorry about the penalty', the 31-year-old told BBC Gloucestershire.
"I said to the ref at least I got one apology, he said it was stonewall. I don't know what game he was watching."
The crucial penalty, awarded by referee Kevin Friend, came with Cheltenham already trailing 1-0 and was converted by England full-back Leighton Baines.
"It's a standard League Two challenge for me, and he's [the referee] trying to make friends I think, I don't know what he's doing," Bennett continued.
"He was calling them all by nicknames and referring to us by numbers, maybe he got carried away with the situation."
Later goals from Leon Osman, Seamus Coleman and Fellaini put the result beyond doubt, with Russell Penn grabbing a consolation for Cheltenham.
However, the Gloucestershire side's efforts in this season's competition brought in nearly £250,000 in television and prize money.
Last season, their cup run paid for the arrival of midfielder Jermaine McGlashan and Bennett hopes the money made this season will again be used for new players.
"Obviously a bit of money has been made from the whole thing so I hope that will go back into the playing squad and back into the group," the Irishman added.
"I'm glad we gave them a goal, the home crowd, and I hope the majority of them will come back for York on Saturday as we've got 21 games and we've got to go and get promoted.
"I can't wait to get back into a normal routine and a normal week and get what we set out to do at the start of the year."