Aidy Boothroyd under no pressure to sell Northampton players
Last updated on .From the section Football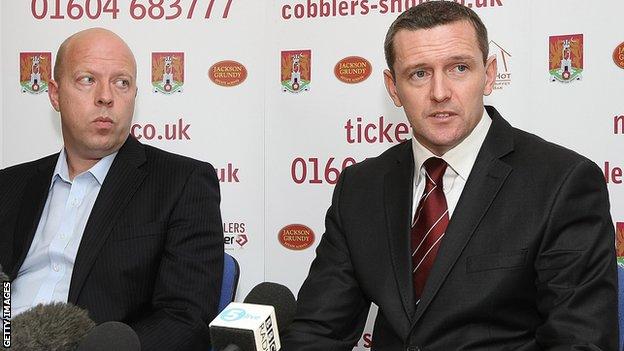 Northampton Town manager Aidy Boothroyd says the club do not need to make new signings and added that he does not expect to lose players in January.
And Boothroyd told BBC Radio Northampton: "The chairman is not looking to cash in on anybody.
"We've got one or two on the wish-list, but if we can't get them, we're not particularly bothered."
Boothroyd continued: "We're a bit more settled [than last January] and our 'new' signings are players that are coming back from injury.
"My phone is ringing but I've got a chairman who has already spent a huge amount of money on the club and [is] not in a rush to get that back.
"When you look at our squad now, there is a lot of value in our team and players that other teams might look at. They can ask and we can say yes or no. But I think we've got a good squad."
He added: "I want us to improve but not break anything we've got."
The Cobblers expect to have defender David Artell back from an Achilles injury within 10 days, and John Johnson is also close to a return.
Meanwhile, 17-year-old midfielder Lewis Hornby is expected to sign a professional contract this week.
"He's a great example of a young boy who's become a man very quickly," Boothroyd said.
"He can come on [against Fleetwood] for a fantastic player like Luke Guttridge and we don't even know there's been a change made. That's the quality and attitude I'm after."