Tom Ince and Steven Caulker bans appealed against by FA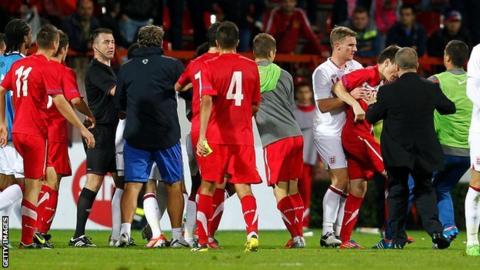 The Football Association has lodged an appeal to Uefa over the bans given to England Under-21 internationals Tom Ince and Steven Caulker.
Midfielder Ince, 20, and defender Caulker, 21, were suspended for one and two matches respectively for incidents that took place after the win in Serbia in October.
Their case is set to be heard in February.
It is thought England Under-21 boss Stuart Pearce will attend the hearing.
England's players were racially abused during the 1-0 win in Krusevac, a result that secured their place at the 2013 European Championship.
Players and staff from both sides clashed at the final whistle, with England's Danny Rose shown a red card.
When the punishments were handed down to Caulker and Ince in December, FA general secretary Alex Horne indicated that an appeal would be made.
"It is the FA's vehement belief that its players and staff acted correctly in the face of provocation, including racist abuse and missiles being thrown," he said.
"We are therefore surprised to see that two of our players have been given suspensions."
If the appeal fails, Blackpool's Ince would miss the Euro 2013 game against Italy, with Tottenham's Caulker also sitting out the clash with Norway.
Serbia players Ognjen Mudrinski, Nikola Ninkovic, Goran Causic and Filip Malbasic were given bans ranging from two to four matches, while coaches Predrag Katic and Andreja Milunovic had already received lengthy suspensions from the Serbian FA.
Serbia have also been fined £65,000 and ordered to play their next under-21 match behind closed doors.
However, with those sanctions widely seen as being too lenient, Uefa has already begun an appeal against the punishment handed down by its own disciplinary body.