Stewart Regan hopes to get fans on board with league plans
Last updated on .From the section Football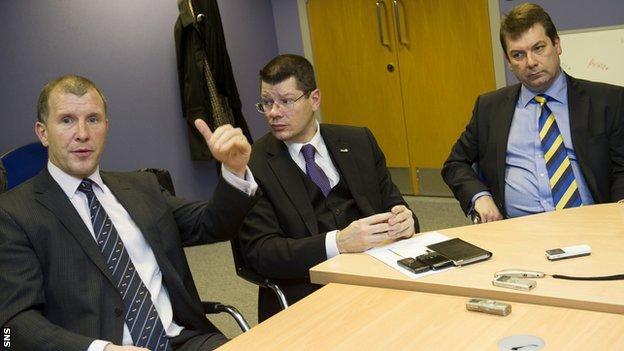 Scottish Football Association chief executive Stewart Regan hopes to convince fans the country does not need a larger top flight.
Fans have expressed a desire for the top division to be bigger.
"I think there's an educational exercise that we need collectively to go through," said Regan.
"We'll be working very closely with [fans group] Supporters Direct in order to make sure that those messages are delivered.
"Fans have spoken about a 16-team league but one of the underlying points made after that is because they'd like to see more games.
"In reality, a 16-team competition delivers less games than the proposal that we're examining at the moment for 12, 12 and 18."
The Scottish Football League, which currently comprises three leagues of 10 below the 12-team Scottish Premier League, had pushed for a 16-10-16 format but both league bodies, who would merge under the latest plans, will now ask their members to consider a 12-12-18 set-up.
And SFL chief executive David Longmuir feels the excitement generated by the top two divisions can boost crowds.
After two rounds of fixtures, those leagues would split into three sections of eight for two rounds of matches.
The top eight would contest the top flight title and European places, the middle eight would play-off to decide which sides would start the following season in the first or second tier and matches in the bottom eight would determine which sides were to be relegated to the bottom tier of 18.
"Having been with the SFL, knowing what play-offs can deliver - the game where it's dramatic, there's lots of stake - those are the kind of games that drive fans back to the terraces and that's what we're trying to do," explained Longmuir.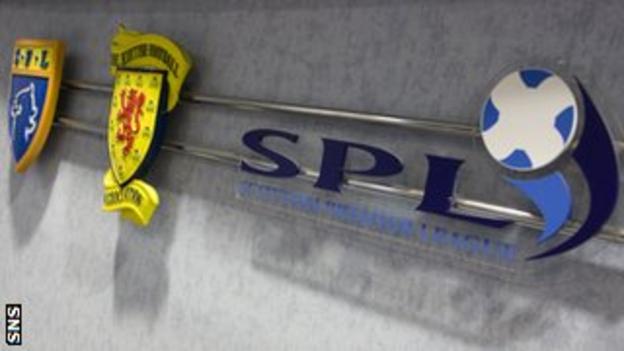 Responding to fans' keenness on a larger top flight, SPL chief executive Neil Doncaster responded: "We have to focus on what's vital.
"What's vital is that we safeguard the existence of clubs who are relegated into a financial situation which is very difficult for them to manage at the moment.
"We have to create more promotion opportunities, we have to ensure that there's a pyramid for the game as a whole.
"There's a desire for a single league body. All of these things are fundamental to what we've discussed.
"The numbers, actually, are perhaps less important than those issues which are fundamental to the future good of the game."
Club representatives leaving Hampden after the latest round of talks elected not to comment.
However, in an opinion piece on the Rangers website, the plan was described as an "abomination".
"It isn't that long ago clubs, particularly those in the top flight, were solemnly insisting that ignoring the views of fans would be akin to financial suicide," it added.
"If they were listening to fans they wouldn't be sticking with a top division of 12."