Marc Lloyd Williams' column

By Marc Lloyd Williams
Welsh Premier League's all-time leading goals scorer
Last updated on .From the section Football1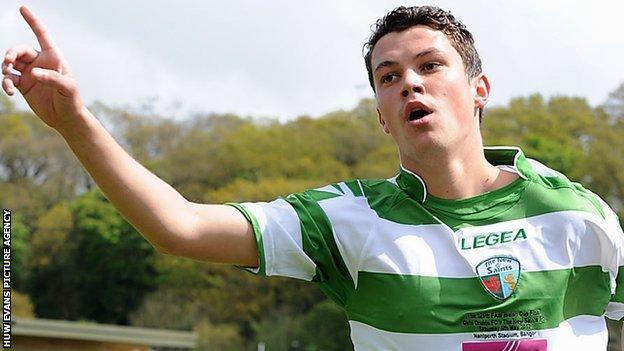 There are only 10 Welsh Premier League games left until the league splits in two.
We already know who five of the clubs are that have secured their place in the top six: The New Saints, Bangor City, Prestatyn Town, Airbus and Port Talbot.
With one place up for grabs, Carmarthen - who have hit form at the right time - are in the coveted sixth spot, a point ahead of Connah's Quay and Newtown.
Newtown with three wins and a draw in their last four games will no doubt fancy their chance of getting that sixth spot when they travel to Carmarthen in their final match next week.
Bala and Aberystwyth have an outside chance of making it, although Bala's defeat to Port Talbot on Saturday may have put paid to their hopes, whilst Aberystwyth's demolition of Prestatyn at the weekend has given them a glimmer of hope and an outside chance of finishing sixth.
At the top of the table, all four clubs are doing their best to throw the title away. The New Saints dropped four points in their last two games but, luckily for them, both Bangor and Prestatyn failed to capitalise over the Christmas period.
Whereas Airbus, currently in fourth, came out worst in their festive Deeside derby matches against GAP Connah's Quay, only picking up a point.
They do have two games in hand over the league leaders which are against the league's bottom two, Afan Lido and Aberystwyth, so they will expect to pick up six points to close the gap on the teams above them.
What was disappointing to see over the festive period was the attendances at WPL games. Only three games managed to get over 400 spectators through the turnstiles.
Not surprisingly two of the three games involved Bangor, who are by far the best supported team in the WPL, and 786 braved the elements for a re-arranged game against Prestatyn.
There were 406 for the reverse fixture at Bastion Gardens on New Year's Day, whilst Newtown had their highest gate of the season (410) against Aberystwyth.
To make matters worse for the WPL, there were nearly 600 spectators at the Dyffryn Peris derby match between Llanberis and Llanrug in the Welsh Alliance League, which is two leagues below the WPL on the FAW [Football Association of Wales] pyramid structure!
Clubs depend on these festive games for a good crowd to generate income and it's disappointing to see when there is a lot of hard and effort put in by club volunteers to get games on that folk decide to stay away.
I may be constantly harping on about switching to summer football, not only to increase the popularity of the WPL but to also drastically increase attendances.
WPL clubs are constantly battling against supporters going to watch Liverpool, Everton, the two Manchester clubs, and Wrexham in the north, whilst in the south there is competition from Swansea, Cardiff and Newport and not to mention the regional rugby union teams.
What will these supporters want to do after their clubs' seasons have finished in early May? They are addicts and crave for more football, so a switch to summer football could increase attendances and increase the popularity of our national league, although I agree there is a lot more to it than increasing the attendances.
WPL clubs need to think long and hard about switching the season to the summer.
Forget 4G pitches, personally I'm not a fan of this type of surface, I was at the TNS v Bala game on Boxing Day and it was a dour encounter.
Nothing against the way the two teams played, but it's the artificial surface that dictates the flow of the game and it was like watching a training match, with hardly a tackle of note being made.
Port Talbot to their credit did try something different for their last home match, when they gave the supporters the option of how much they paid to enter the stadium. It turned out to be a wise move by club chairman Andrew Edwards, as the Steelmen had their highest attendance of the season, 285.
Sandwiched in-between the final games of the season, this weekend the first trophy of the season will be awarded when Carmarthen and TNS go head to head in the Word Cup final at Newtown's Latham Park.
TNS as league leaders will no doubt start as favourites but Carmarthen have been a totally different proposition this season under Mark Aizelwood.
They haven't conceded a goal in both their league encounters against Craig Harrison's team this season and they hammered TNS 3-0 at Park Hall six weeks ago, which was TNS' last defeat, a defeat that will still be fresh in their minds.