Michael Chopra says he cannot afford legal fees for BHA inquiry
Last updated on .From the section Football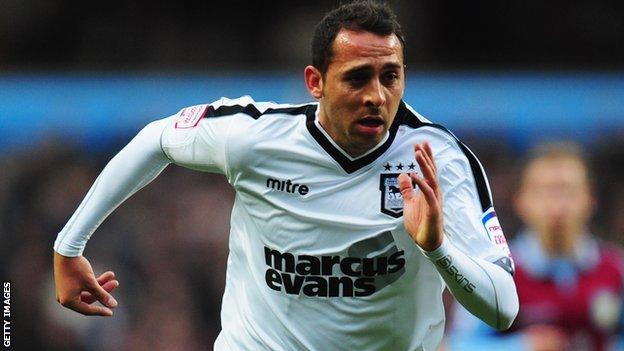 Ipswich striker Michael Chopra says he cannot afford the £50,000 legal fees to defend himself at a British Horseracing Authority inquiry.
The 29-year-old has been charged by the BHA for "serious breaches of the rules of racing" and the inquiry will be start on Monday, 14 January.
Chopra, who admitted a gambling problem, said he has "extensive debts".
"I simply cannot afford the amount of money necessary to clear my name," Chopra said in a statement.
The Ipswich forward said he has been advised that, even if he is found innocent, the BHA would not refund his legal costs.
However, it is understood Chopra could make an application to have his legal fees refunded if he is cleared, although he would have to prove the case was unfairly brought against him.
Chopra also believes he does not fall within the jurisdiction of the BHA's rules.
Therefore, Chopra says the only punishment the racing authority can hand him is a ban from racecourses and gambling establishments licensed by it.
Any racing ban by the BHA prevents dealings with licensed individuals, which includes jockeys, trainers, owners and stable staff.
The Ipswich forward admits such a sanction from the BHA would be a "useful mechanism" in helping him to address his gambling problems.
"I am not a member of the British Horseracing Authority and not subject to its rules," said Chopra.
"It is well publicised that I have a gambling addiction problem and I see any such sanctions as being a useful mechanism in helping me to address these problems.
"As of this year, I've voluntarily excluded myself from all betting institutions from where I live in Ipswich in order to help me fight this illness,"
Chopra was among a group charged by the BHA over an investigation into "suspicious betting activity".
Doncaster midfielder James Coppinger, ex-Manchester United player Mark Wilson and jockey Andrew Heffernan along with five others are among those charged by the BHA.
Coppinger has denied any involvement in alleged horse racing corruption.
BHA media manager Robin Mounsey said: "The charges being brought against Michael Chopra are serious and relate to conspiring with other persons to commit a corrupt or fraudulent practice, and offering bribes to a licensed person.
"It is the BHA's role to protect the integrity of the sport from corrupt practices from both licensed and unlicensed individuals.
"As such, via a disciplinary panel, the BHA is able to impose sanctions upon individuals not bound by the rules of racing, which include exclusion from entering any licensed premises or having dealings with any licensed person regarding horse racing."