Jose Mourinho: Real Madrid fans' poll highlights concerns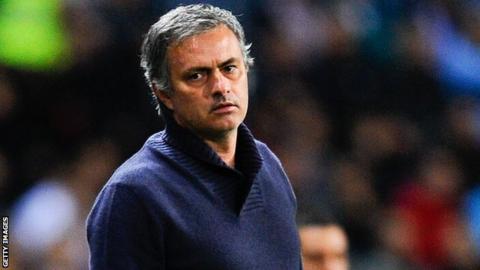 A survey of Real Madrid fans has suggested that supporters may be losing faith in coach Jose Mourinho.
Pro-Real Madrid Spanish sports newspaper Marca surveyed 704 supporters before last Sunday's win against Real Sociedad.
While 54.4% said Mourinho should stay next season, 41.8% said it was time for him to go.
Two-thirds of fans polled said the former Chelsea boss's actions were damaging the club's image.
The supporters gave his performance as coach an average mark of 6.68 out of 10, down from 8.82 in March 2011.
Real are 16 points behind arch-rivals Barcelona in Spain's La Liga.
Former Porto, Chelsea and Inter Milan coach Mourinho, 49, was jeered when his name was read out before kick-off against Real Sociedad on Sunday. The Portuguese angered many supporters after dropping club legend Iker Casillas for the second game in a row.
The goalkeeper's replacement, Antonio Adan, was sent-off after just six minutes of the match.
Mourinho vowed not to leave his post following a 3-2 defeat to Malaga in December, saying: "I'm not worried at all and I'm not going to resign. I'm not a child, I know that results count."