Lincoln Ladies to appoint new manager as Boanas stays away
By Alistair Magowan
BBC Sport
Last updated on .From the section Football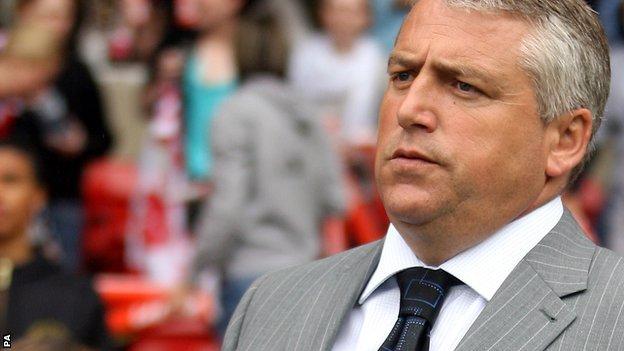 Lincoln Ladies are close to appointing a new manager after Keith Boanas opted against becoming their new boss.
The Super League side said in November they had appointed Boanas as coach, but the 53-year-old has chosen to remain in charge of Estonia's women team.
Boanas was to join Lincoln in January, two months ahead of the new season.
"We have since made an approach to a new manager and are delighted with the appointment we will be making," read a Lincoln statement.
"The new manager is having to work notice and plan an exit route from their current employers and as a result will be announced in due course."
Despite announcing the appointment of Boanas on their website in November, chief executive Luke Negus-Hill told BBC Sport that he had not met the former Charlton Ladies coach in person, with negotiations done via the telephone.
Negus-Hill said: "Whilst we had lengthy discussions with Keith nothing was set in stone, and it came to light that his Estonia role was going to be difficult to leave.
"We have acted quickly and discussions with our new appointment have gone extremely well and I look forward to working with them in the very near future."
The disruption comes two months before the Lincoln's season begins again in March. FA Cup fixtures are scheduled before the FA Women's Super League commences in April.
Lincoln finished fifth in the league last season, which was described by defender Sophie Bradley as "disappointing".
"As a team, we didn't play well enough throughout the season," she told BBC Sport. "So we have a point to prove this year."
Following the initial managerial appointment, the club has since signed England goalkeeper Karen Bardsley, meaning that along with Bradley and skipper Casey Stoney, Lincoln now have three England defenders in their ranks.