England women's contract offer 'embarrassing', says PFA
Last updated on .From the section Football420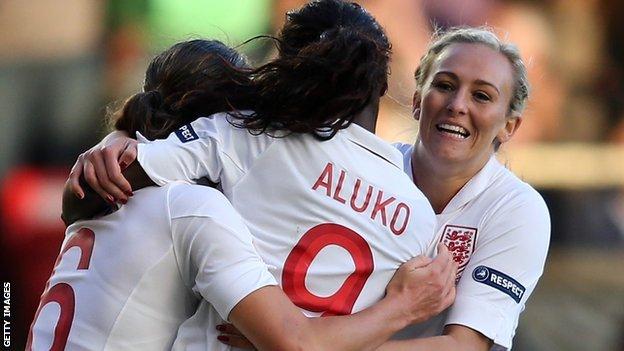 Players' union chief Gordon Taylor says the Football Association's £18,000-a-year contract offer to England's top women players is "embarrassing".
Hope Powell's squad have decided not to sign their central contracts after advice from the Professional Footballers' Association (PFA).
Taylor says the offer does not reflect the popularity of the women's game.
"Come on, that figure is embarrassing. Top Premier League players are earning more in a day," he said.
The PFA is seeking to reach an agreement with the FA as England women's previous £16,000-a-year deal ended in November and players went unpaid last month.
It is understood that negotiations between the PFA and FA centre around the additional 24 hours players are allowed to work each week in addition to players' central contracts and money they receive on a semi-professional basis from their clubs.
England have qualified for Euro 2013 in Sweden while the 2012 Olympics proved a big hit with fans, more than 70,000 turning out at Wembley for the GB women's win over Brazil.
Taylor said: "I am surprised the FA have not been more responsive to the girls' reasonable demand.
"In some ways, [the FA] have done a lot for the women's game, which now has increased TV coverage and obviously the facility at St George's Park [the recently opened FA centre of excellence in Burton] is available for both male and female players.
"But they are offering to move these central contracts up from £16,000, which has been the figure since 2009, to £18,000."
Some players have to take part-time jobs to supplement their income, but training demands for club and country mean players cannot always find employment that offers enough flexibility.
England and Lincoln Ladies defender Sophie Bradley told the BBC: "I think it's now got to the point where we need to be rewarded because of the amount of people who are interested in watching us play and the progression of the game."
The squad is at St George's Park for fitness testing before flying to La Manga in Spain on Sunday for a week-long training camp.