Italian officials to get power to stop matches for racist behaviour
Last updated on .From the section Football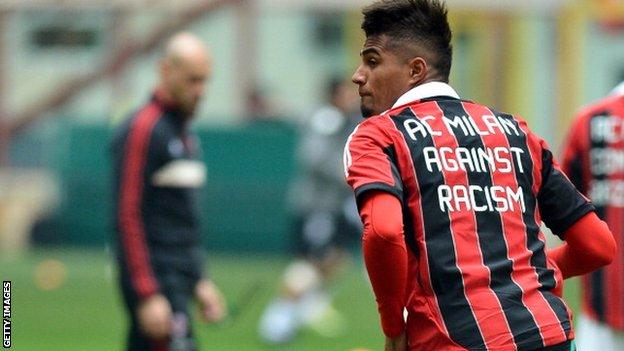 An Italian government watchdog (ONMS) has said public security officials will be given the power to stop football matches in cases of racist behaviour.
A match could either be abandoned or temporarily stopped to warn supporters.
The director of public order services will have the "sole responsibility" to suspend a match after talks between the referee and the fourth official.
Last week AC Milan walked out of a friendly after midfielder Kevin-Prince Boateng was subjected to racist chants.
Boateng, 25, has since said he would walk off the field again if subjected to racist abuse and Milan owner Silvio Berlusconi praised the player for his stand against racism.
Fifa president Sepp Blatter described Boateng's stance as courageous, but did not believe such gestures would provide a long-term solution to the problem.
ONMS, a department of the interior ministry, said the problem was caused by a small minority, while adding that violence at Italian matches was also on the decline.
"There has been a further drop in the number of violent incidents, while manifestations of racism and intolerance sporadic and always limited to a restricted group," a statement read.