SFL clubs to discuss 12-12-18 league reconstruction plan
Last updated on .From the section Football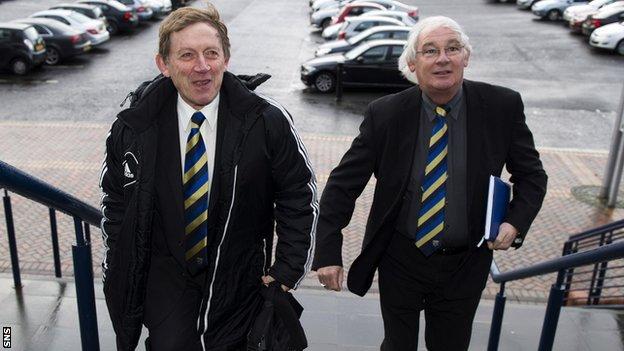 Scottish Football League clubs will meet on 31 January to discuss the latest plans for league reconstruction.
A plan for 12 teams in Scotland's top two divisions, underpinned by an 18-team third tier will be assessed.
At this stage, there are no plans for a formal vote at the meeting, with clubs due to receive details of the 12-12-18 set-up before the summit.
"Every club has a role to play in the future of Scottish football," said SFL chief executive David Longmuir.
Longmuir joined his Scottish Premier League and Scottish Football Association counterparts on Tuesday to announce details of the proposed re-organisation of the game north of the border.
Though the season would begin with three leagues, midway through the campaign the top two divisions would split into three leagues of eight.
The top eight would contest the top flight title and European places, the middle eight would play-off to decide which sides would start the following season in the first or second tier and matches in the bottom eight would determine which sides were to be relegated to the bottom tier of 18.
The SFL and SPL would be replaced by a single league body and both organisations will hold separate votes on the plans.
Thirty clubs make up the SFL, which is currently split into three divisions of 10 below the 12-team SPL.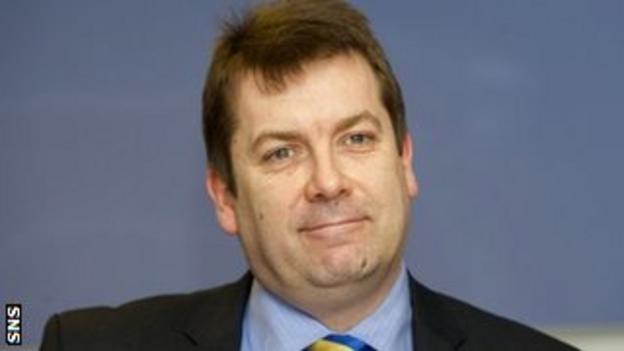 Third Division leaders but more than half of the clubs in Division One indicated to BBC Scotland that they support the idea in principle.
And Falkirk chairman Martin Ritchie told Radio Scotland's Sportsound programme: "I've been involved in endless debates, both when we were in the SPL and then after we got relegated, into trying to get some change and every change gets blocked.
"Some people want a 10-club league and some people want a 16, and we go on and on.
"I think the most important thing just now is to get the framework right and if we get the framework right, we can worry about the actual league structure as a secondary issue.
"The framework is a fairer distribution, more opportunities for promotion than relegation and I think the new governance structure is essential because if we don't have the new governance structure, we'll be left forever with the 11-1 [majority] vote [needed] in the SPL and nothing will happen.
"If it turns out that this is a bad model and the fans don't like it and the clubs don't like it, we can change it. But once we've got one new governance model, it'll be a damn sight easier to change than it will be today."