Terry Butcher waves hello to Inverness Caledonian Thistle
By Kenny Crawford
BBC Sport Scotland
Last updated on .From the section Football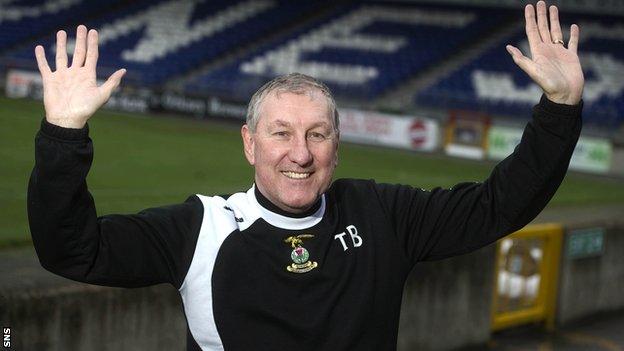 Everybody loves a story that ends with a twist.
Yet until Wednesday night, Scottish football fans felt they were watching an all too familiar plot line.
That being: manager does well at Scottish club; English club offers that manager a job; manager moves from Scotland to England.
But then Inverness CT announced Terry Butcher would be staying with them, rather than becoming manager of Barnsley.
A conclusion not many predicted. A refreshing change.
Surely the fact Inverness CT are currently sitting second in the Scottish Premier League, while the Tykes find themselves at the bottom of the Championship, made Butcher's decision a no-brainer?
Not really.
It's widely known English football is a huge draw for Scottish players and managers these days - even if it means being involved in lower tiers.
In the last few years, for instance, St Johnstone has been the departure lounge for both Owen Coyle and Derek McInnes ahead of their moves south.
The First Division has taken a hit, too, with John Hughes leaving Livingston to take over at Hartlepool United in November.
Even our national team manager was prized away in 2007, when Alex McLeish opted for Birmingham City - who were playing Premier League football at the time.
Hamilton Accies' Billy Reid seems like the last Scottish-based boss to spurn the advances of a club south of the border -publicly anyway.
He rejected the chance to go and talk with Welsh side Swansea City, playing Championship football in 2010, citing loyalty to the chairman, players and the general project in Lanarkshire.
Since then, Hamilton have dropped to Division One and Swansea have entered the Premier League.
Kicking himself?
"I watched Swansea beat Chelsea on television but I don't have any regrets," Reid told BBC Scotland.
"You have to try not to look back. Swansea have done fantastically well but you never know how things work out.
"I didn't think the move was right for me and my family.
"I don't know the reasons why Terry wants to stay at Inverness - but there are always reasons other than financial."
Butcher lists several reasons.
Loyalty to players and staff is in there, so is the settled life he currently enjoys in the Highlands.
But most of all, he seems incredibly enthusiastic about what lies ahead.
Butcher says what he has at Inverness CT is something special and wants to finish off the season in style.
One interested onlooker during this special season is the Highlanders' former striker Adam Rooney, now playing his football at League One promotion hopefuls Swindon Town.
"Over the last couple of years they've been doing very well, but especially this year - second in the league and still in two cups," Rooney told BBC Scotland.
"I don't think anyone could've expected that at the start of the season. I don't think the gaffer himself would've expected that to be honest!"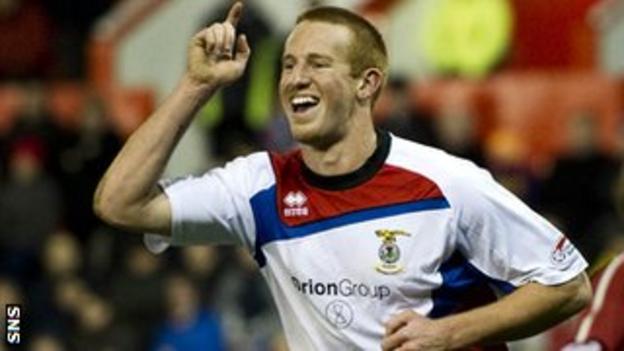 Months after Butcher arrived at the Caledonian Stadium in 2009, Rooney began to blossom.
The Irishman was the First Division's top scorer in 2009/10 and continued his good form in the SPL in 2010/11, which ultimately led to a move to Birmingham City.
"He gave me a run in the team and that's what I really needed," explained Rooney.
"I'd never really had that before and he had the confidence in me and gave me that opportunity so I'm very thankful for that.
"He's very motivating before games. He really gets lads up for games and he gets teams to gel well and stick together.
"Maurice [Malpas] has been very important too.
"One of them knows when to give you a kick up the back-side and the other one knows when to put an arm around you, so they work very well as a team."
Rooney admits he was a little surprised Butcher did not end up in Yorkshire with Barnsley, but expects other chances to manage elsewhere won't be too far off.
"It's inevitable that people are going to come looking for him because of the job he's done up there," he said.
"If they can continue to keep Inverness going that way and they stay up there it would be a brilliant achievement.
"I don't see why he couldn't manage anywhere."
Butcher has outlined his wish to finish off the season in style with Inverness.
But the question is, will that amount of time elapse before another English club comes calling?
Perhaps there'll be another twist in this story.