Michu: Why Swansea were the only club interested in him
Last updated on .From the section Football203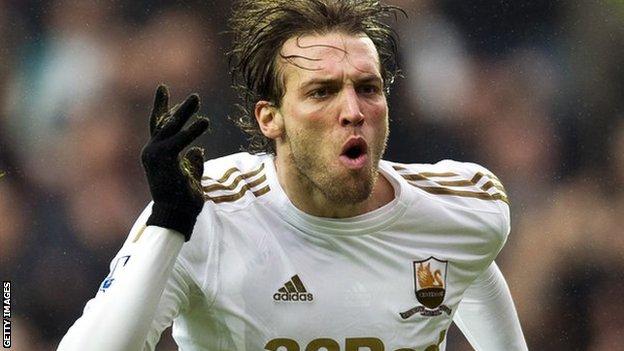 Could this be a footballing version of rejecting the Beatles or passing up on publishing the Harry Potter books?
In 2011, Tottenham and Wigan were alerted to the possibility of signing a Celta Vigo midfielder called Michu, who was available on a free transfer. Both decided not to take things any further.
Last summer, they got another bite at the cherry. The elegant Spaniard, now playing for Rayo Vallecano, had just finished the season as La Liga's top-scoring midfielder and had a buy-out clause of just £2.2m in his contract.
Again they erred, leaving Swansea City unopposed as they signed the 26-year-old.
The rest is history and few would argue with Swansea boss Michael Laudrup in describing Michu as the bargain of the season.
He is the third-top scorer in the Premier League, has fired the Swans to the cusp of the Capital One Cup final and is now valued at £30m by his club.
Manchester United manager Sir Alex Ferguson won't be the only Premier League manager questioning how such a good player was able to slip through the net.
"Just £2m and I'd never really heard of him," Ferguson lamented before Christmas. "I should have a word with my scouting department."
The legendary Northern Ireland striker Gerry Armstrong, now a co-commentator on La Liga matches for Sky Sports, could be forgiven for now saying, 'I told you so'.
He alerted Premier League clubs to Michu three years ago, when he was playing for Celta Vigo in the Spanish second division.
"I watched him a couple of times and you could see the talent was definitely there," the former Real Mallorca and Tottenham striker tells BBC Sport.
"He was a big lad with great technique and two good feet, and he made these well-timed runs into the box and scored goals.
"I told Tottenham about him and I know Wigan followed him and were very close to signing him, but they were looking at other players as well and didn't take things further."
Michu was available on a free transfer at the end of that 2010-11 season, because his contract with Celta had come to an end. Rayo Vallecano, an unfashionable club on the outskirts of Madrid recently promoted to La Liga, signed him up and paid him a salary of £6,000-a-week, according to Armstrong.
In his first season in Spain's top flight, Michu was a revelation. He scored 15 goals, which made him the top-scoring midfielder in La Liga, ahead of the likes of Andres Iniesta and Mezut Ozil, and helped Rayo stay in the top flight.
You might have expected that tally to alert Europe's biggest clubs, especially as Michu had a buy-out clause of just over £2m in his contract.
But Felipe Minambres, the director of football at Rayo, told BBC Sport: "Many teams called us about Michu, but the only real offer was from Swansea."
So why didn't other clubs come in for the player?
"I suppose they just didn't look hard enough, although they will certainly be looking harder now," Armstrong says.
"There might also have been the thought, 'It's one thing playing in the Spanish league, but a very different thing playing in England'. After all, there's a different style of play in the Premier League and it's much more physical.
"But I always thought Michu could adapt, because he's a big lad, 6ft 1ins, with good technique and he scores goals. He also works tremendously hard."
Laudrup, who has excellent knowledge of Spanish football following his time as a player for Barcelona and Real Madrid and then as manager of Real Mallorca, must also take a lot of credit for Michu's performances.
The player had been an attacking midfielder throughout his career in Spain, but Laudrup's masterstroke was to switch him to centre forward.
Analysis of the 13 goals he has scored in the Premier League show he is ideally suited to the role.
He has scored five headers, 23% "poachers goals" from inside the penalty box, as well as goals with both left and right foot.
Ferguson has certainly been impressed by his versatility. "He can play up front, of course, but he can also drop into midfield so that they can bring in Danny Graham," the Manchester United manager said last month.
Minambres adds: "It's not a surprise for me how well he is playing and helping the team, but what has surprised me is the number of goals he has managed to score in the first half of the season, considering how new he is to the team and the league."
Swansea's possession-based, passing style has undoubtedly helped the Spaniard to settle in quickly, as has the fact that three of his compatriots - Angel Rangel, Chico and Pablo Hernandez - are at the club.
Then there is Laudrup, who was Michu's boyhood hero, knows all about centre forward play, and speaks fluent Spanish.
What next? Spain manager Vicente del Bosque admits he is considering calling Michu into his star-studded squad, while Minambres thinks he could even feature in their next match, against Uruguay on 6 February.
Then there is the big question all Swansea fans will want answered - can they hold onto their star player?
Minambres thinks it is inevitable that Michu will move on. "I think he will manage to play in one of the best Premier League teams," he says. "I think Swansea will sell him and do good business."
As an end note, it's worth pointing out that it wasn't only Premier League managers who failed to spot Michu's potential.
Of the 1.97m virtual managers in the Premier League's fantasy football game, 2.47% picked the Spaniard in gameweek one.
Now 46.15% of the managers have him in their teams, even though his price has shot up from £6.5m to £8.2m.
Expect some of Europe's biggest clubs to also try and correct their oversight this summer.