Swansea City's success not down to luck, says Graeme Le Saux
Last updated on .From the section Football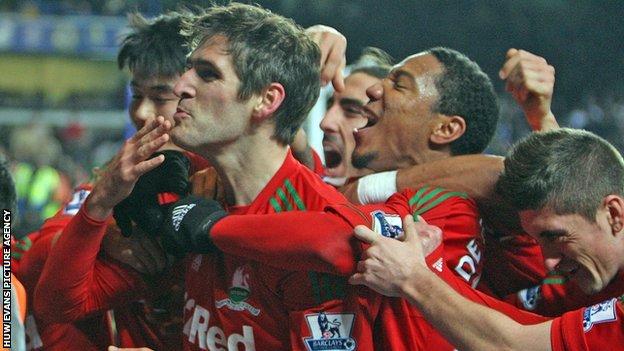 Former Chelsea and England defender Graeme Le Saux says Swansea City's success is no fluke.
"Swansea are, in some ways, punching above their weight," Le Saux told BBC Radio Wales.
"But they've done that through their principles and through professional approach rather than it just being a bit of a lucky season."
Swansea's win at Stamford Bridge was the latest highlight in a season that has also brought wins at Arsenal,Liverpool and Newcastle.
Top scorer Michu put the visitors ahead with his 16th goal of the season and Le Saux, 44, understands why transfer talk surrounds the Spanish striker.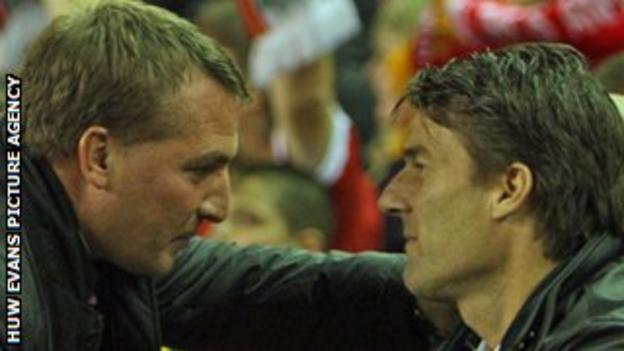 He also believes it is inevitable that manager Michael Laudrup will attract attention from rival clubs as Swansea continue to attract plaudits.
"Any club that is perceived, shall we say, as a smaller club is always going to be under pressure when it comes to the best players or manager if he's doing very well," said Le Saux, capped 36 times by England.
"But what maybe they lack in size or where they lack in size they can make up for in terms of the opportunity.
"The supporters are fantastic down there, the opportunities the players are given and the environment that they're playing in - they're obviously enjoying their football.
"He's [Laudrup] enjoying being down there managing so I think inevitably you can't foresee where a manager's going to go or where a top player's going to go.
"But what you can do is make sure that when they're with your club you get the best out of them and that they feel endeared to that club so that they stay.
"And ultimately if top players or a manager, like Michael, wants to move on at some point I think Swansea can take a lot of pride in the time that that player or manager has been at the club."
Two of Laudrup's Liberty Stadium predecessors, Roberto Martinez and Brendan Rodgers, have moved to Premier League clubs.
Martinez took over at Wigan in June 2009 while Swansea were still in the Championship and Rodgers, who took Swansea to the Premier League in 2010, was recruited by Liverpool before the start of this season.
Le Saux says Swansea's ability to attract and nurture such managerial talent is an indication of the club's sound foundations.
"They've had three very good managers there over recent years," he added.
"Michael Laudrup was a wonderful, wonderful player and has gained experience in Europe over recent years.
"And the club continues to evolve so I think the chairman [Huw Jenkins] and the board at Swansea have thought very long-term, shall we say in order to get that continuity in the style in which they play, which means then that players have got this system and this belief in what they are doing because they've been doing it for a long time and they've had success.
"And I think Swansea are a team that show that if you really believe in what you're doing - and you do it consistently over time - that you can be successful."