Africa Cup of Nations 2013: How to win the tournament
By John Bennett
BBC World Service Sport
Last updated on .From the section Football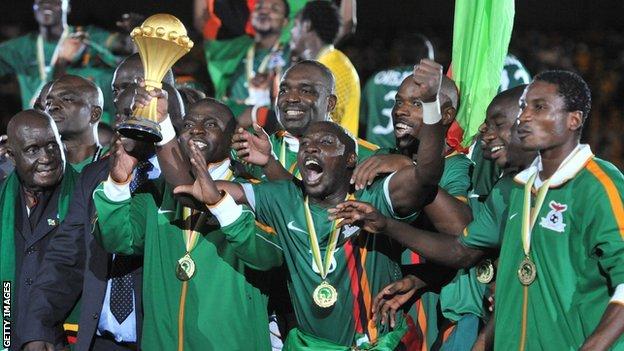 Only a select few African players know what it feels like to lift the Cup of Nations trophy.
Some of the continent's greatest ever talents, such as Didier Drogba, George Weah and Michael Essien, have never got their hands on a winner's medal.
The 29th edition of the tournament in South Africa starts on Saturday and looks wide open. Drogba's Ivory Coast, Nigeria, Algeria and Ghana will start as the favourites but last year in Gabon, Zambia won the final on penalties and proved that outsiders have every chance of proving the pundits wrong.
BBC Sport has spoken to three men who have experienced the joy of winning the trophy; from the pitch, the dug-out and behind the scenes.
How did they win the Africa Cup of Nations?
The head coach
Winfried Schafer led a Cameroon side including Samuel Eto'o to the Africa Cup of Nations title in 2002. The final against an El Hadji-Diouf-inspired Senegal finished goalless but the Indomitable Lions held their nerve to win on penalties. The German is now head coach of Thailand.
Get your tactics right: "Four weeks before the Africa Cup of Nations started, I altered the team's system. Cameroon were playing 3-5-2 but I changed the tactics to 4-4-2. After that we kept clean sheets in every single one of our matches. In Germany we say that attackers win you a match, defenders win you a tournament. Our back four was fantastic and our goalkeeper was very, very good. That was the key."
Make sure you are disciplined: "We had four leaders in the team. Rigobert Song was the captain, Patrick M'boma was a big personality, Marc-Vivien Foe and Samuel Eto'o, who at the time was a young boy. These players were the leaders and because of them the discipline was fantastic.
"Before I signed my contract I met Song at West Ham United, M'boma at Parma and Foe in Lyon and they all told me that they needed discipline in their group. After that it was fantastic."
Treat your players with respect: "It was very important that the players trusted me. Every single member of the squad was important, not just Eto'o or M'boma but every player from one to 23. I motivated all the players. I was like their big brother. That was very important to the African players, I gave them confidence and I never talked negatively about them. We were one group, not the coach and then the team, but one group. That's very important in Africa."
Get the best out of your most talented players: "Eto'o, now 31, was a young player and at times he was a little bit too relaxed. I had to tell him, 'Samuel, it's not enough what you are doing in training. You have more potential, you have to work more.' He looked at me and said, 'coach, I don't understand'. And I said, 'hey Samuel, if you want to go to the highest level of the top players around the world you have to work more'.
"After the final he came up to me, kissed me and said, 'coach thank you, thank you for your work'. And every time I see him now - the last time was a year ago in Dubai - I'm happy and he's happy."
Don't complain about the facilities: "Our training camp in Mali was very bad, the pitches weren't good, the beds weren't good and all the players from our squad were with clubs in Europe at that time, they were used to great facilities at the likes of Parma, Real Madrid and Manchester City. But nobody had a bad word to say about the camp. Everybody was happy to fight for his country, for their mothers and fathers and their families.
"When you're a coach from Europe you can't go to Africa and complain that the training fields are bad, that the pitches are bad. That is wrong. You have to remember that you're not at Wembley or in Munich, this is Africa. You have to think like a coach from Africa, not like you're a coach from Europe."
The player
Phil Masinga, was part of the South Africa team when they won the Africa Cup of Nations in 1996. It was Bafana Bafana's first appearance in the tournament after decades of isolation because of Apartheid. In a fairytale ending, they beat Tunisia 2-0 in the final. Masinga also played for Leeds United in the Premier League and Bari in Serie A.
Use pressure from fans to lift you: "In 1996, we were lucky, South Africa had had two years of democracy and we had everybody in South Africa behind us, including the journalists. In fact the whole of South Africa was behind us, all politicians were behind the team. That added a 12th player for us.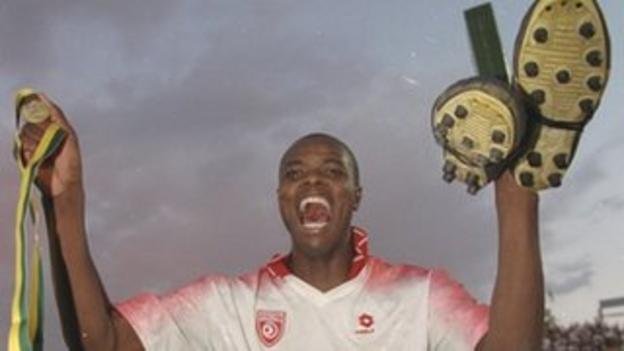 "Whenever we went to the pitch there was so much to play for, it was not all about ourselves it was all about the 45m people in South Africa and making them happy. The support that was there was actually pushing us to do more and more."
Find motivation away from the pitch: "One thing that really pushed us was thinking of the players who didn't have an opportunity to participate in international football when South Africa was isolated due to Apartheid. Most of them were great players. We had to represent them. We grew up watching them but they didn't have a chance to play international football."
Play for your team-mates: "The spirit was very good, it was more like a family, our coach managed to make players live as brothers. We knew how to complement each other because we knew each other's strengths. And we knew what each player was capable of doing. The coach made us believe in ourselves."
Have strong leaders on the pitch: "It's important to have a leader and in our team we had many leaders. We had the coach, we had the captain Lucas Radebe, who in his own right was a leader, we had myself and Eric Tinkler. In fact there were lots of leaders that helped the coach and the captain to ease the pressure on the younger players."
The senior official
Kalusha Bwalya, president of the Football Association of Zambia, Africa Cup of Nations champions 2012. They confounded the pundits in Gabon with an 8-7 penalty shootout win over Ivory Coast in the final. During a successful playing career Bwalya won 100 caps for Zambia and played for PSV Eindhoven. He was also head coach of Zambia for three years and took over as the president of the country's FA in 2008.
Pick the right coach: "It's difficult to get it right. Herve Renard [who led Zambia to victory in 2012 and is still in charge of the team] was with us in 2010 but he left to join Angola. Then just before the last Cup of Nations we made the bold decision to bring him back because of his work ethic. He's a man who works hard, knows his football, he's young, he's ambitious, he wants to go places, he wants to win things with Zambia.
"For me that is the most important, that coaches, when they come to Africa - whether they're local or foreign - are able to bring the best out of our players. Renard has been able to do it fantastically. We had a coach making the right calls, choosing the right tactics, making the right substitutions with players that fit exactly into that system. It was an incredible journey for Zambia to be crowned champions in Libreville in Gabon."
Make sure there's a positive atmosphere: "First of all there has to be humility in the team. There has to be that determination and the desire has to be correct. The chemistry between the coach and the players also has to be proper.
"Our team embraced the humility and the ability to work with each other, in other words the team spirit. I was really pleased with the way we approached it. We'll take the same approach as we come to the next Cup of Nations and we hope to go far in 2013."
Give the coach time to prepare: "Of course form plays a big part. The Cup of Nations is 30 days, somebody has to be on top of his game, everything has to be correct to play an Africa Cup of Nations. Going into the last Cup of Nations we had a camp just for the locally based players in November. Then the real preparation started.
"It gave us the right platform and right encouragement for the players to know that if they worked hard they could make the team. You hear coaches come to Africa and spend most of their time in Europe and not in Africa, but Renard works very, very hard with the team."