West Ham co-chairman David Gold recovering from pneumonia
Last updated on .From the section Football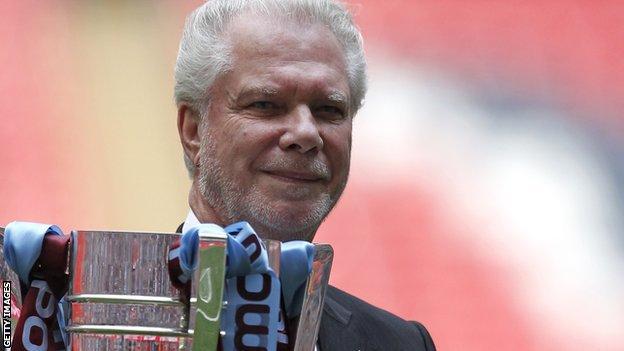 West Ham co-chairman David Gold says he is recovering well after being taken to hospital with pneumonia.
Gold, who hopes to leave hospital at the weekend after going in on Tuesday night, said he was grateful to his daughters Jacqueline and Vanessa
"I can't thank my two daughters enough. Getting me into hospital as quickly as they did was so important," he said.
Gold added on Twitter: "I'm over the worst. Still on intravenous antibiotics but feeling better. Thank you so much for your kind words of support,"
West Ham say hundreds of fans have left messages of support on Twitter, while Gold was given a card signed by club manager Sam Allardyce, players and coaching staff.
Gold attended West Ham's 2-2 home draw with Manchester United on Saturday but was taken to hospital by his daughter on Tuesday night.
She tweeted on Tuesday: "I think he's learnt a very harsh lesson - not to go to football with bronchitis, he now has pneumonia."
Gold and co-chairman David Sullivan, who had previously been owners of Birmingham City, took over the east London club in January 2010.
Gold was in hospital in February 2011 with septicaemia and cholangitis - inflammation of the bile duct - but made a full recovery.