Michael Keane: Pearson eager to keep Man Utd defender
Last updated on .From the section Football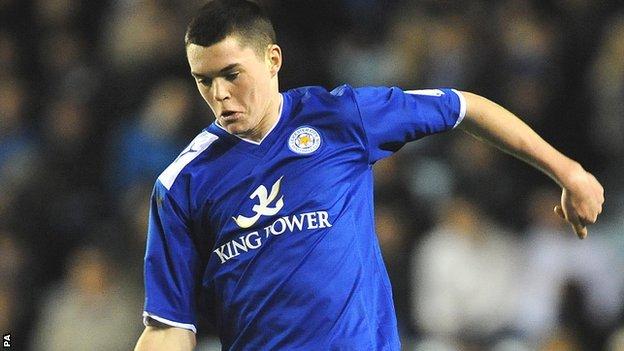 Leicester City manager Nigel Pearson would like to extend Manchester United defender Michael Keane's loan deal until the end of the season.
Keane has already agreed to extend his original stay until the end of January.
The 19-year-old has only played three times because of injury but has said he would like the chance to stay longer.
Pearson told BBC East Midlands Today: "At the moment it is a month and we'll explore if there are any possibilities beyond that at another date."
Keane suffered a hamstring injury on his debut against Bolton in November, but returned to the team in the recent 6-1 win over Huddersfield Town.
Pearson added: "We are pleased to extend it for that extra month to start with.
"He has a bright future in the game. It is good to have a player of that calibre with us.
"He is very highly regarded by Manchester United and we are very pleased to secure that loan. It will be good experience for him as well. It's an important time for him and he does give us quite a bit of quality."
Keane said: "I'm really pleased the deal has been extended. I'm playing games and every game is an added experience. The more I can play the better I will become.
"I'm not going to get regular first-team football at United this season so would love to stay here.
"The Championship is really competitive. Leicester are a massive club. Hopefully I can keep playing well and can stay in the team and help the team to promotion.
"You can see the quality in training every day; there are no weak links and I think we have a really good chance of going up if we play to our potential."