Nations Cup 2013: Ghana's Gyan 'will not take penalty'
Last updated on .From the section Football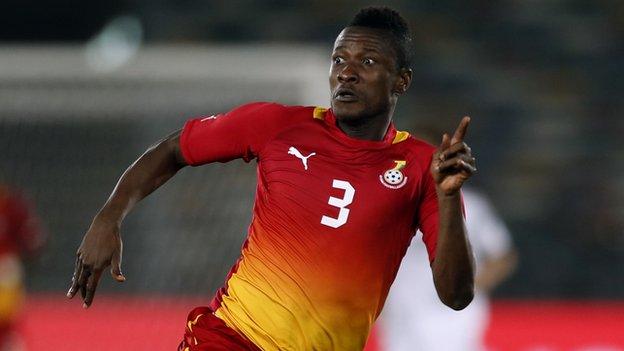 Ghana captain Asamoah Gyan has revealed he will not take a penalty during normal play in the upcoming Africa Cup of Nations in South Africa.
The 27-year-old missed a spot-kick that would have put Ghana in the semi-finals of World Cup 2010 and again in the semi-finals of last year's Nations Cup.
After suffering abuse from fans, which led him to take an international break, Gyan does not want to step up again.
"I have decided not to take a penalty for the national team," he said.
"Most of the biggest players have missed penalties - Cristiano Ronaldo, Lionel Messi, Diego Maradona - all great players. On a bad day it can happen.
"But I said some months back that I wouldn't take another penalty. Before my Mum died [in November] she told me not to take penalties any more."
Two years ago Gyan failed to convert a penalty against Uruguay at the end of extra-time in their World Cup quarter-final, which would have won the game and made them the first African side to reach the last four in the history of the competition.
Then in February he again missed from the spot in his country's Nations Cup semi-final against Zambia, who went on to win 1-0 and then beat Ivory Coast in the final.
Later that month Gyan said: "It's been very hard for me mentally, to miss two important successive penalties for my country.
"I never fully recovered from the 2010 World Cup and now the 2012 [Africa Cup of Nations]."
Gyan returned from his self-imposed exile in August, and in October he was given the responsibility of replacing John Mensah as the Black Stars captain.
While he is "thrilled" to be leading from the front, he will not be at the head of the queue to take another spot-kick when the action once the tournament kicks off on 19 January.
But he hinted that would dig deep to show leadership in a penalty-shoot-out, saying "if I've been chosen to take one then why not."
As for Ghana's chances of lifting the trophy come the final on 10 February, Gyan is careful not to make any bold statements.
"It's been over 10 years since we won a cup and sometimes it is a bit frustrating," he said. "All the Ghanaians are expecting a cup back home and that can put a bit of pressure on the players.
"But we know how to do our job. We have played in Europe and on the biggest stages in the world. We have to focus, make sure we qualify from the group stages and then we can think about winning the cup."
Ghana kick off their campaign against the Democratic Republic of Congo on 20 January and will also face Mali and Niger in Group B.