Ally McCoist wants Rangers in Scotland's top flight
Last updated on .From the section Football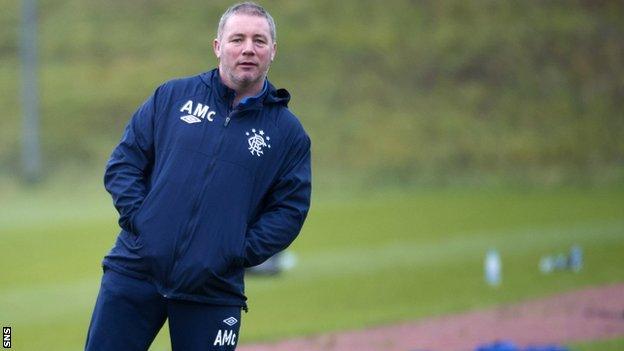 Ally McCoist believes the "ideal" situation for Rangers would be a berth in Scotland's top flight.
and says Rangers could pursue football elsewhere.
McCoist's side currently lead the Scottish Third Division by 17 points.
"There has been a lot of information coming out in the last week or so but all we want to do is get back to the top league in this country," he said.
"Charles is doing his job in the respect that he's exploring avenues for other leagues.
"I can totally understand his dislike for the potential new set-up.
"If it goes ahead, I would imagine the biggest sufferers again, in my opinion, would be the Rangers supporters.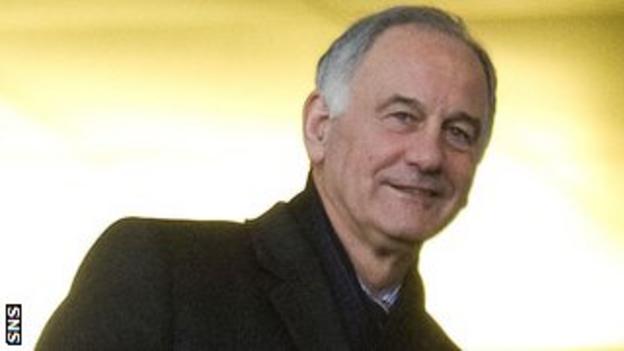 "I know Rangers and Celtic have explored avenues to play in different leagues and I would think they would continue to do that.
"But where I'm sitting at the moment, I'd settle for the top league in Scotland."
The chief executives of Scotland's three governing bodies, which would be reduced to two under reconstruction proposals, have not ruled out introducing for next season if enough support can be garnered.
That would replace the current system of four leagues - the 12-team Scottish Premier League underpinned by three Scottish Football League divisions, each containing 10 teams.
"I don't think you can change during a season," McCoist contended.
"All we are looking for is continued fair play. If we win the league then we should be promoted, in my opinion.
"Time, legality and sporting integrity would surely be in question over a potential reconstruction for next season."
Meanwhile, Green claims Rangers have paid off or settled debts due to non-Scottish clubs.
The Yorkshire businessman took on outstanding football liabilities when he bought the club assets last year and said arrears with Scottish clubs had been settled several months ago.
"Coming to agreements with all of the European clubs where we paid all of the debts or reached settlements with them is another example of the commitment 'new' Rangers have made and not turning our back or walking away from oldco's responsibilities," explained Green.