Iran coach Carlos Queiroz criticises Fifa's international schedule
Last updated on .From the section Football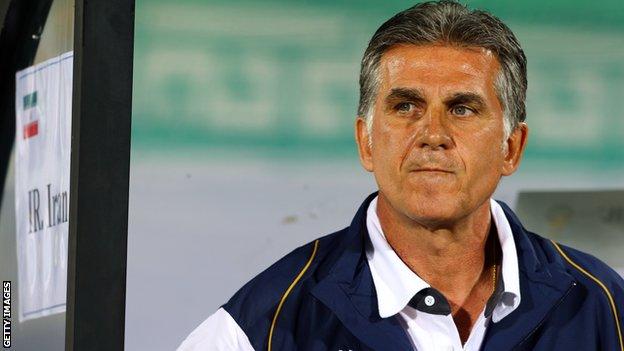 Iran coach Carlos Queiroz has hit out at what he thinks is Fifa's unfair international schedule for countries outside the elite of world football.
The former Real Madrid and Portugal coach is currently attempting to take Iran to their fourth World Cup.
But Queiroz has expressed the frustrations that come with coaching in Asia.
"One of the most difficult things that we face in Asia are the long distances," he told BBC World Football.
"When you are the national team coach of England or Portugal or Spain, you travel by charter.
"So Fifa, with the rules that are in place at the moment, give you five days to prepare the team. If you spend four days travelling, you have one day to prepare the team.
"So this is not a coaching job. This is a magician's job," added the ex-Manchester United assistant manager.
The Iran squad travel to Qatar, host Lebanon and then have a trip to South Korea, with a week between matches.
Their final fixtures four years ago saw them travel to PyongYang to play North Korea on 6 June 2009, before facing the United Arab Emirates four days later, following a round trip of 8,000 miles.
A week after the UAE fixture, Iran went back to the Korean Peninsula to face South Korea in Seoul, 4,070 miles away. Ultimately they failed to qualify.
"You cannot believe that the Fifa rules were made to support nations like Iran," Queiroz, who took the job in April 2011, added.
"The Fifa rules were made to support Germany, England and Portugal. So if they keep following the international rules, they won't get anywhere."
For Queiroz, taking Iran to the World Cup would regain some of the credibility that he lost after being sacked by Portugal in September 2010.
Iran currently lie joint-second with South Korea and Qatar, all behind Uzbekistan, in a group that looks set to go all the way.
Two teams qualify automatically for Brazil 2014 and the third enters a play-off, but the 59-year-old is confident of making it.
He said: "We have a big chance because we have everything. We have a great passion. It's fantastic. The fans are unbelievable. I think I saw it in my life probably in South America.
"We have the players, we have the team and I'll be there until the last moment. The last second, side by side with my players fighting for this opportunity to play at the World Cup in Brazil, which is a dream that I want to see a reality in my life."