Africa Cup of Nations 2013: Togo confirm Adebayor squad inclusion
Last updated on .From the section Football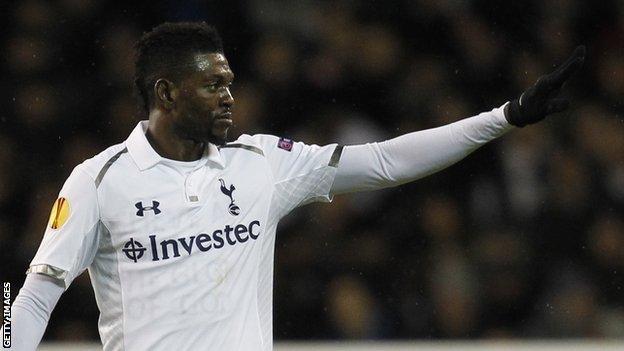 The president of Togo's football federation says he intervened to include Emmanuel Adebayor in the country's Africa Cup of Nations squad.
Gabriel Ameyi told the BBC he took action once he realised the Tottenham striker had not been selected.
"On the initial list, those guys weren't there," Ameyi said of Adebayor and veteran goalkeeper Agassa Kossi.
"I insisted and if I am accused of intervening in selection, yes I did, but only regarding Adebayor and Kossi."
It is unclear whether coach Didier Six failed to call up the Spurs forward given his recent proclamations that he did not wish to play in the tournament held in South Africa.
"I think everything is sorted out as in his statements on various television channels. Sheyi (as Adebayor is often known in Togo) has clearly said he will be taking part in the Africa Cup of Nations," Ameyi added.
"So I was a bit surprised this morning after the rumours about his non-participation. I don't understand - and I don't believe - these rumours.
"I know Sheyi well, and if he says that he will do things, he does them. So, yes I am surprised, but no need to panic. Let's wait and see. I am convinced Sheyi will be among us."
Earlier this week, Adebayor - who is set to fly to South Africa after Tottenham's game against Queens Park Rangers on Saturday - said he was persuaded to return to the national team after meeting Togo's head of state.
Adebayor met President Faure Gnassingbe over two days, according to a government spokesman.
"I told him Togo football is sick and must find some medicine," Adebayor told French radio in an interview on Wednesday.
Adebayor temporarily retired from international football in 2010 after a gun attack on Togo's team bus at that year's Africa Cup of Nations in Angola.
Two members of the Togolese party were killed, and goalkeeper Kodjovi Obilale was badly hurt and has been unable to return to football since.
Adebayor was convinced to return but fell out with federation bosses in December over what he called "mismanagement and a lack of transparency" and initially said he would not play for his country at this year's event.
South Africa will be Togo's first appearance at the African championship since the deadly attack in the Angolan enclave of Cabinda, which led the country to withdraw from that tournament.
The Hawks have been drawn in a tough Group D, along with tournament favourites Ivory Coast, Tunisia and Algeria - Africa's second-highest ranked team according to world governing body Fifa.