Joey Barton says players must take responsibility for their actions
Last updated on .From the section Football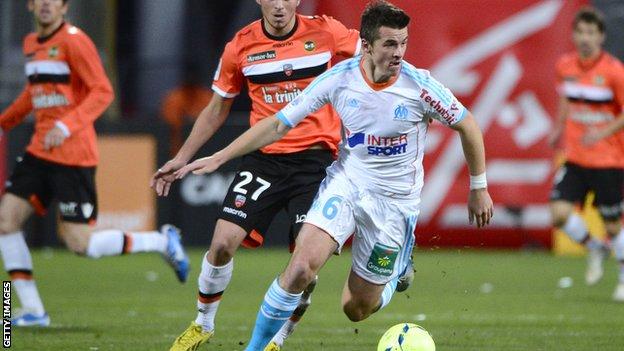 Joey Barton says players must learn to deal with media pressure and "take responsibility for their actions".
"The media follow the game to an almost excessive point in England. We have to adjust accordingly," said Barton.
"The players need to take responsibility for their actions. We know what comes with the territory."
Ex-Liverpool director of football Damien Comolli fears Luis Suarez could quit England over his treatment.
And Barton, 30, also highlighted the recent focus placed on Tottenham winger Gareth Bale over the issue of diving.
But he is adamant that players have to learn not to let such coverage bother them.
"I come onto the pitch carrying all the baggage," he said. "Gareth Bale has been a victim of the media baggage recently.
"Referees and linesmen read newspapers as well. They're not oblivious to what's going on. But it comes with the territory and you have to be cuter and a little cleverer in what you do.
"People make personal judgements on what they read in the newspaper. I don't hold any grudges about it though. I know I'm flawed and that I make a lot of bad decisions but I try to see the lighter side of things."
Barton, who joined Marseille on a season-long loan in August, was given a 12-match ban by the Football Association last May after being found guilty of two counts of violent conduct.
He struck Sergio Aguero and then clashed with Vincent Kompany after being sent off in QPR's 3-2 defeat at Manchester City and admits he has regrets about the incident.
Barton said: "The way I handled the last day of last season wasn't right. But the power of hindsight is a great thing. We'd all do things differently with a bit of time to think about it.
"For me, I tend not to act well instantly; I get in a lot of trouble when I let my emotions get the better of me. I'd love to go back and alter the course of events and I'd try not to react to [Carlos] Tevez.
"Albeit, he hit me in the face. I can't condone what I did and I accepted the ban. Somehow I've ended up in the south of France and I've had a new lease of life."