Michael Appleton: Karl Oyston denies dispute with ex-boss
Last updated on .From the section Football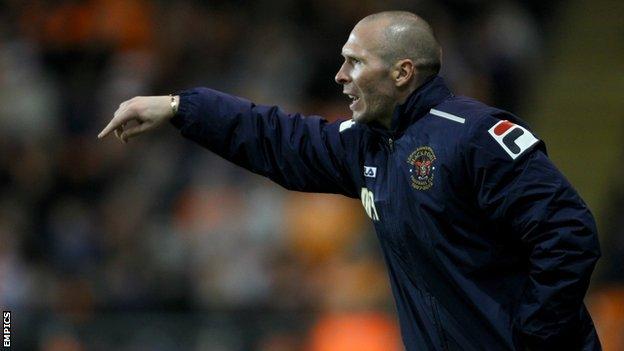 Blackpool chairman Karl Oyston has said any "conspiracy theories" about a fall-out between himself and Michael Appleton are untrue and not the reason for Appleton's departure to Blackburn.
Appleton's 65-day reign at Bloomfield Road ended on Friday when the 37-year-old was
Oyston told BBC Radio Lancashire: "People always default to conspiracy theories and perpetuate rumours.
"There's no fall-out. That's one of the more easily dismissible rumours going."
He added: "We should dismiss it because it's factually incorrect."
News of Blackburn's move for Appleton was made official late on Wednesday night, and having initially rejected the approach, Blackpool eventually granted Rovers permission to speak to the former Portsmouth boss about their managerial vacancy.
Appleton and first-team coach Ashley Westwood signed two-and-a-half year deals at Ewood Park on Friday.
Oyston continued: "Derek Shaw (Blackburn's managing director) called me and asked for permission to speak to Michael.
"He's contractually entitled to leave if he gets a better offer.
"Michael's spoken to Blackburn and it's a particularly good offer for him. In his shoes, most people would have done the same thing.
"The level of the offer was very high and I believe it's longer term.
"Disappointment has got to be tempered with some realism - in particular, the fact that there's so much money at stake.
"Whatever people have signed and whatever the morals involved in walking out of contracts are, you'd have to be a very robust character not to chase that sort of offer.
"It's not a shock at all. These things happen in football pretty regularly.
"Fans follow football throughout the world and anyone who's shocked by this is very naive, frankly.
"It's not unheard of in football that people get better offers and move on. It's part of the very nature of the sport that we all follow."
Oyston and Blackpool are now faced with searching for another new boss, just two months after Appleton was brought in to replace Ian Holloway, who left to join Crystal Palace at the start of November 2012.
Bradford manager Phil Parkinson has
Steve Thompson, who served as assistant to both Holloway and Appleton at Blackpool, will take caretaker charge of the team at Charlton on Saturday.