Wolves need a Luis Suarez - Dean Saunders
By Ged Scott
BBC Midlands Sport
Last updated on .From the section Football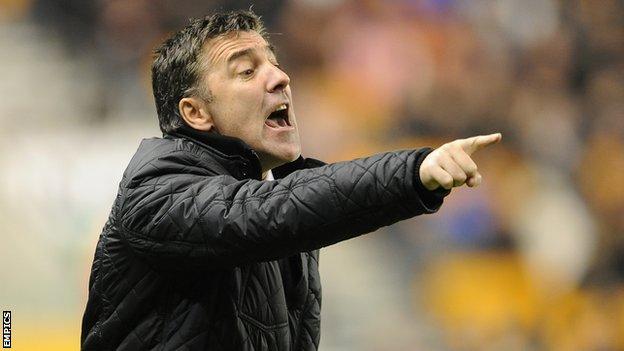 New Wolves manager Dean Saunders is looking for the next Luis Suarez as he strives to transform the playing squad he has inherited at Molineux.
Saunders' mission is to trim the Wolves first-team squad down to 25 - a job which he points out could take him two years to do.
"We need players with class, who have a good work ethic. Look at Luis Suarez," he told BBC Midlands Sport.
"He can run, he tries and he's brilliant. You want players like that."
Saunders added: "We want to get back in the Premier League without bankrupting the club.
"Football's no secret. It's about getting good players to work hard. It's the same at any top Premier League club. Look at [Manchester United manager] Sir Alex Ferguson. Anybody that doesn't work, he gets rid of them.
"I need to get this squad down to 25. Otherwise there are too many players not happy sitting around with idle hands, not part of it.
"Think about all the salaries we'd save, which we could turn into a bit more class.
"I want to have 25, all of whom think they're good enough to get in the team who, if they get left out, think there's a chance of getting back in. You see long faces walking round and it's not good for team spirit.
"It's going to take me a couple of years to thin that squad down. You can't just pay players off and sell them for nothing. A lot of them are good players."
Of the current 35-man first team squad he has inherited, two - Adam Hammill and Zeli ismail - are out on loan, while Eggert Jonsson (Charlton) and Bury pair Matt Doherty and Ethan Ebanks-Landell are back at Molineux following the end of stints away from Molineux.
Meanwhile Saunders still has four on his injury list and winger Jermaine Pennant is now expected back at Stoke as his three-month loan is up.
But, having had five days to take stock and pick his first team for Friday night's encouraging the Welshman is already looking to offload players before the end of the January window as he begins to formulate a rebuilding plan.
And, by bringing in teenage striker Jake Cassidy for his debut and recalling Ronald Zubar for his first start in over four months, it has immediately been made clear to the entire Wolves playing staff that they have the chance to impress.
"They'd lost in the FA Cup to Luton, so nobody was safe after that result," added Saunders. "I could have done whatever I wanted.
"I walked in on Monday morning and said 'can you get all the lads in the canteen' and it looked like we had about 500 people in there.
"I was surprised how many players we'd got and how many staff we've got.
"We've got 40 players and only three of them, Kevin Doyle, Jake Cassidy and Sylvan Ebanks-Blake, who was feeling his hamstring, are strikers.
"It's a bit of an imbalance in the squad. It's obvious.
"Something's wrong. You never get a job unless something's wrong. And I've got to get to the bottom of it. But that's a good start."