SPL mid-season review
By Kenny Crawford
BBC Sport Scotland
Last updated on .From the section Football20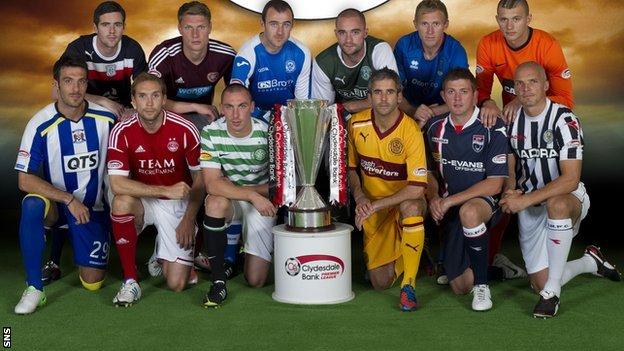 As the 12 Scottish Premier League clubs prepare for the second half of season 2012/13, BBC Scotland's football pundits and presenters give their views on how each club has fared since the campaign kicked off last summer. Clubs are listed according to league placing.
Celtic - by Murdo MacLeod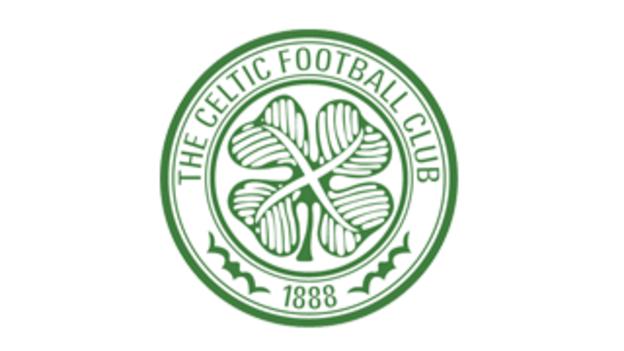 SPL: Played 21, Won 13, Drawn 4, Lost 4
Scottish Cup: Through to fifth round, away to Raith Rovers
League Cup: Through to semi-final against St Mirren
Europe: Face Juventus in Champions League last 16
On Neil Lennon: "He's handled things very well, especially the big games. He's changed the shape of the side, he's brought in players and he's not frightened to leave top players out."
On best players: "Fraser Forster has possibly been the pick of the bunch. In some of the big matches, he has kept his team in the game."
On tactics: "Away against Kilmarnock, Adam Matthews and Emilio Izaguirre played up the park like wingers and it allowed the three centre-backs to play - that was a big surprise and it was a very good performance. There are so many options now and the players are quite comfortable when they're asked to play in different roles."
On best result: "Celtic 2-1 Barcelona."
On worst result: "Celtic 0-2 Kilmarnock. It was a really flat performance, as was the home defeat to Inverness CT. Celtic, with the squad they've got, shouldn't be losing games as often as they've done this season - but the highlights far outweigh the lowlights."
On how to improve: "If they could get a playmaker-type player. Celtic have top quality midfielders but if you can get a number 10-type player it just gives you that something different."
Inverness CT - by John Robertson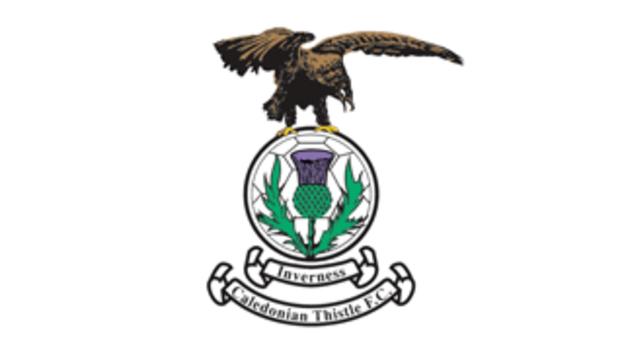 SPL: Played 21, Won 8, Drawn 10, Lost 3
Scottish Cup: Through to fifth round, away to Kilmarnock
League Cup: Play Hearts in semi-final at Easter Road
On Terry Butcher: "Management is about putting square pegs in square holes and that's exactly what he's done - he's put the right people in the right places and the effect you're seeing has just been sensational."
On best players: "At the start of the season the form of Andrew Shinnie was sensational, resulting in him being Inverness CT's first ever Scotland international call-up. Obviously Billy McKay's been grabbing the headlines for his goals but all the front four have been terrific. Aaron Doran has chipped in with a few goals and Richie Foran year in, year out continues to lead by example."
On tactics: "Owain Tudor Jones and Ross Draper have been two absolute giants in midfield, but they can play as well. They protect the back four and allow the four forward players to go and express themselves."
On best result: "Inverness CT 4-0 Dundee Utd. To me that was the most important result - everything just clicked and from that game on the team's confidence and belief has come through and it's shown with some brilliant results."
On worst result: "Inverness CT 1-5 Motherwell. It was just a bad day at the office. Immediately after, they had three terrific league wins on the bounce so they responded magnificently and haven't lost a game since then."
On how to improve: "They've got there through sheer hard work, confidence, belief, teamwork and their own abilities. They should just keep doing what they're doing. If they do, there's no reason why they can't finish in the position they're in and be in good shape to reach their first ever major cup final."
Motherwell - by Jane Lewis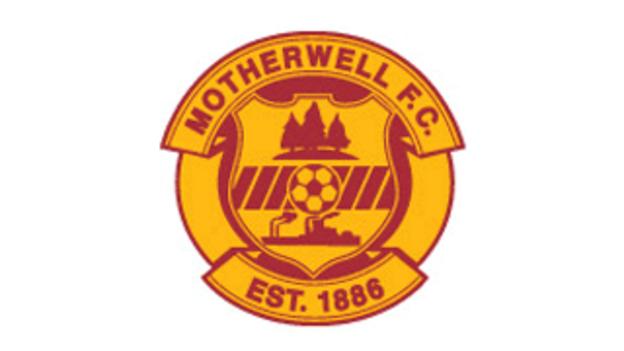 SPL: Played 22, Won 9, Drawn 7, Lost 6
Scottish Cup: Knocked out by Aberdeen in fourth-round replay
League Cup: Knocked out by Rangers in third round
Europe: Knocked out by Levante in play-off round for Europa League
On Stuart McCall: "Continues to impress, with his enthusiastic style. He has a small but really talented squad, and always seems to be fairly fortunate with injuries. But the second half of the season will bring challenges. Jamie Murphy has left, and several key players are out of contract in the summer. The likes of Michael Higdon, Darren Randolph, Tom Hateley and others could leave for nothing in the summer. McCall will have to work wonders with his budget to keep or replace them with similar quality."
On best players: "Henrik Ojamaa has been sensational. His work-rate is exceptional and he possesses some some silky skills too. Hanging on to him may be a challenge. Chris Humphrey is also playing a big part - it's not just about pace with him this season. Jamie Murphy was in good form before he left - so there will be a gap to fill there."
On tactics: "Home form has not been as solid as their away form. Their opponents clearly know what to expect. After sticking with the same tactics that served him so well away, McCall in a recent game changed things slightly - and to great effect - Motherwell beating Aberdeen 4-1 on Boxing Day."
On best result: "It's a toss-up between the away 5-1 win against Inverness and the fixture mentioned above on Boxing Day. The away win was surprising and impressive given Inverness were in the midst of a terrific run. The Aberdeen home win was just an excellent display with so many players really excelling and playing at the top of their game. It just clicked that day and was great to watch."
On worst result: "Losing to Rangers in the League Cup was disappointing, and that started a mini poor run, which had some Motherwell fans panicking. However, going out to Aberdeen in the Scottish Cup was a sore one. A last-gasp goal for the Dons forced a replay and the team just weren't at the races at Fir Park, going down 2-1. A decent cup run is crucial for revenue and generates real excitement."
On how to improve: "Stuart McCall - who'll be having contract talks with the club himself soon - faces a real challenge. If he can hang on to the majority of the squad in January (if the board can resist cashing in should they receive any offers) then the second half of the season should be just as fruitful as the first. However, in the longer term he may have to re-build a team and with limited funds. If he loses players, will he be able to bring in ones of similar quality?"
Hibernian - by Craig Paterson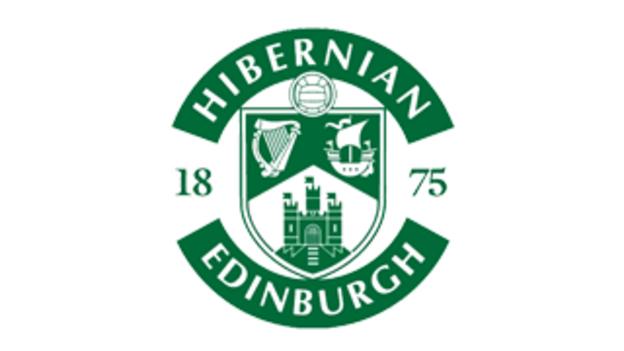 SPL: Played 22, Won 9, Drawn 5, Lost 8
Scottish Cup: Through to fifth round and will play Aberdeen
League Cup: Lost to Queen of the South in second round
On Pat Fenlon: "He's done really well. With the time he had during the close season he got things organised. He brought in some decent additions and it's certainly chalk and cheese in terms of what Hibs have produced this season and last season. Last season they were a soft touch."
On best players: "The star turn has been Leigh Griffiths with his 14 goals so far - 13 of them in Hibs' first 14 matches when they got off to a flying start. If you take those goals out of the equation Hibs' league position would be vastly different. Tim Clancy's been a solid signing - another taller player for Hibs who were a short side. James McPake is the kind of leader you need on the park, a guy who goes and dominates like an old-fashioned centre-half."
On tactics: "Hibs supporters would love to always have open, attacking, flair football, but first thing's first you've got to make yourself hard to beat. It's the steel in the Hibs team just now that is the biggest difference, for me, because even if they haven't played particularly well, this team is still capable of battling away and picking up points."
On best result: "Hibs 1-0 Hearts. Having been destroyed in last season's Scottish Cup final, it was never going to make up for that, but I'm sure it did make the pint taste a little bit sweeter that night."
On worst result: "Dundee United 3-0 Hibs. At that time a lot of people were thinking it was going to be a long season for the fans and a short season for the manager."
On how to improve: "They need a big, physical striker. If they have to play the ball from back to front, Leigh Griffiths can't survive on that kind of ball. He could do with a big, strong striker alongside him. If Hibs could afford and find one of the right quality, that would make a big difference."
Aberdeen - by Willie Miller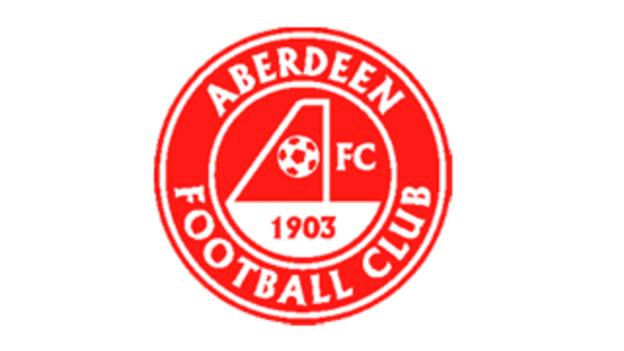 SPL: Played 22, Won 8, Drawn 7, Lost 7
Scottish Cup: Will play Hibernian in fifth round
League Cup: Lost to St Mirren on penalties in quarter-final
On Craig Brown: "It was a slow start for Craig but the team has played pretty well throughout the first half of the season. They've been very solid, certainly in defence. Struggled a bit in the early part to create and score goals but I think they're back on track and they've got good potential for the second half of the season."
On best players: "Niall McGinn's been outstanding and by far the most important player to the Aberdeen cause. The thought was that he was going to be a creative wide player actually creating opportunities for the strike-force, but he's turned into a striker that just can't stop scoring goals. If you've got someone in form like that then it's going to catapult you up the league."
On tactics: "Their strengths lie from a very solid foundation. Mark Reynolds and Russell Anderson at the back have been immense. They've played three in midfield, two in midfield, four in midfield, trying to find the answer there. But certainly they've got experienced players in key areas that are doing extremely well for them."
On best result: "Motherwell 1-2 Aberdeen in the Scottish Cup. It kept their season alive going into the new year.
On worst result: "Aberdeen 2-2 St Mirren (St Mirren won 4-2 on penalties) in the League Cup."
On how to improve: "Finding another player to have a similar impact to Niall McGinn on the goal-scoring front would be the key to their success because I think they're pretty solid elsewhere."
St Johnstone - by Stuart Cosgrove
SPL: Played 22, Won 7, Drawn 9, Lost 6
Scottish Cup: Through to fifth round to play St Mirren
League Cup: Lost heavily to Celtic in quarter-final
Europe: Knocked out by Eskisehirspor in Europa League second qualifying round
On Steve Lomas: "He was new to management and most people knew Steve Lomas the player rather than Steve Lomas the manager. You'll find people that defend him and people who remain unconvinced. He inherited a team from Derek McInnes, who had perhaps been more of an instinctively popular manager. Derek had inherited a team from Owen Coyle who was a very popular manager, so in a sense Steve can sometimes be unfairly compared with his two predecessors."
On best players: "No question, top of the shop is Murray Davidson, who not only has been a great player for us this season but consistently over the past few seasons. Fans like him because he's a really committed player. He doesn't shirk tackles, he can put the boot in, he's got a strong physical engine and he gets goals from midfield."
On tactics: "What's caught my eye is that they're quite a spirited side - never say die. They're not a team that if they go a goal down, you think they've lost the game. I was looking at possession stats in the SPL and unsurprisingly St Johnstone were up there at number three or four with possession in this first half of the season. You would not rule them out of top six at all if they can maintain that spirit."
On best result: "St Johnstone 2-1 Celtic."
On worst result: "Aberdeen 2-0 St Johnstone. St Johnstone teams don't normally get easily beaten at Pittodrie. It was a windy day and the game was going to be decided on a fight. We lost the fight which is not common."
On how to improve: "Settling a decision about who their first-choice strikers are. They've got a pretty decent range of options in Rowan Vine, Nigel Hasselbaink, Steven MacLean and Gregory Tade. All four of them can score goals. But we've never really had a 90 minutes where you start knowing who your first two strikers are, and none of the four of them have built up a telepathic relationship. That has probably cost us six goals, maybe, therefore maybe two or three games as well."
Kilmarnock - by John Barnes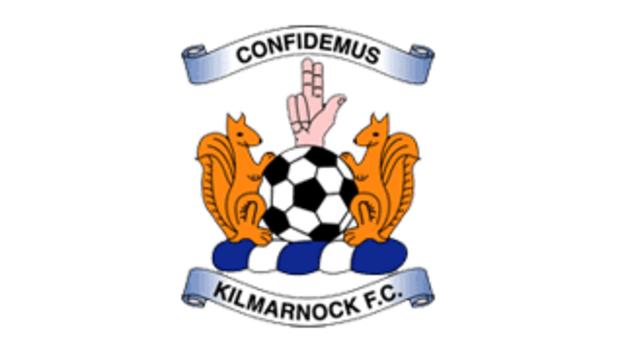 SPL: Played 21, Won 7, Drawn 7, Lost 7
Scottish Cup: Have home fifth-round tie against Inverness CT
League Cup: Knocked out by Stenhousemuir in second round
On Kenny Shiels: "He has shown once again he's the right man to lead Kilmarnock. Despite his clashes with the authorities they've not distracted him from his task of firstly ensuring the Rugby Park side maintain their SPL status, and secondly trying to secure a top-six finish."
On best players: "Cillian Sheridan has certainly delivered with nine goals so far and if he maintains his form he's sure to add to his tally after the winter break. Cammy Bell has again been a vital player since returning from an injury which sidelined him for two months."
On tactics: "James Dayton has come back into the side in recent times and if he can produce top form on a regular basis he could play a vital role in the coming months."
On best result: "Celtic 0-2 Kilmarnock - winning at Celtic Park for the first time in 57 years. Sheridan and the now departed Liam Kelly were the scorers that day in a 2-0 win. It was another result which also boosted the manager's CV and followed up last season's success in the League Cup."
On worst result: "They've not really had what you could call a terrible result this season. But if you analyse the 3-3 draw against Dundee United at Tannadice on 16 November you could possibly say that was their worst result. That Friday night fixture was one of the most exciting matches of the season yet Killie let slip a two-goal lead twice against Peter Houston's men."
On how to improve: "They'll need to find a replacement in the midfield for Liam Kelly and a steady deputy at the back for Michael Nelson, who has joined Bradford City. Kenny Shiels may have to look to more youngsters if he can't strengthen the midfield area with creativity. Consistency is the ingredient Killie require to finish in the top six."
Dundee United - by Jim Spence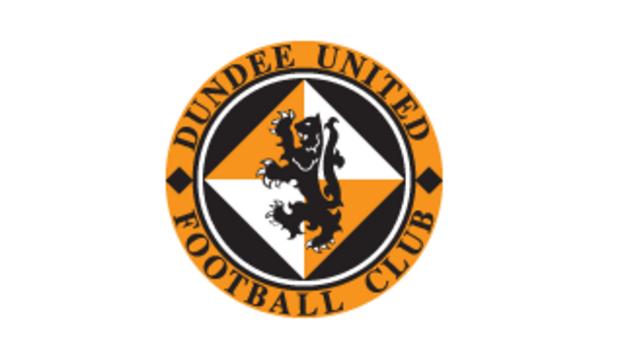 SPL: Played 21, Won 6, Drawn 8, Lost 7
Scottish Cup: Host Rangers in fifth round
League Cup: Lost to Hearts on penalties in quarter-finals
Europe: Suffered 7-2 aggregate defeat to Dynamo Moscow in Europa League third round qualifier
On Peter Houston: "He has suffered from practically losing an entire team over two seasons. This season he's almost kind of rebuilding United, but given budgetary cuts and given that he's had to bring new players in from youth or elsewhere, the team are still finding their feet.
"That struggle has proved too much for him and he has decided that he cannot put out a team to make the top six with the cuts that lie ahead, so he has decided to leave."
On best players: "It goes without saying that when Gary Mackay-Steven plays he's exceptional - his ability to beat a man and put in good quality crosses means that United will struggle to retain him. The keeper Radoslaw Cierzniak maybe looked a bit shaky at first but he seems to be an exceptionally good athlete in terms of his movement and flexibility. Willo Flood has been a great ball-winner and good ball-user. Stuart Armstrong looks a really good prospect, with a good driving run element to his game."
On tactics: "United's biggest problem is that they've struggled to find consistency, but I still think on their day they're fluent enough, sharp enough and move the ball well enough to beat anybody. Fans certainly think that the defence has been less than robust and the decision-making defensively has sometimes been criticised."
On best result: "Dundee United 3-0 Dundee. Dundee 0-3 Dundee United. Even if they're not the best in terms of quality, beating your local rivals twice gives more satisfaction than anything else."
On worst result: "Inverness CT 4-0 Dundee Utd. United don't tend to get four put past them."
On how to improve: "The return of Gary Mackay-Steven from injury, allied to Johnny Russell hitting top form again. He's been slightly off the boil, but when he's on-song my personal view is that Russell is a much more rounded player than David Goodwillie."
Hearts - by Allan Preston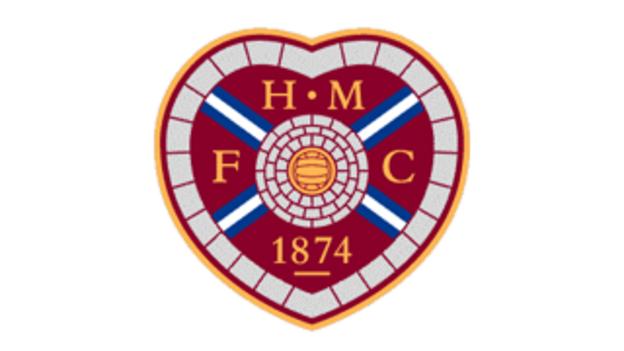 SPL: Played 21, Won 6, Drawn 8, Lost 7
Scottish Cup: Knocked out by derby rivals Hibernian in fourth round
League Cup: Play Inverness CT in semi-final at Easter Road
Europe: Lost 2-1 on aggregate to Liverpool in play-off round for Europa League
On John McGlynn: "He has had to contend with a lot of off-the-field problems. The club almost went out of business and he's lost Rudi Skacel who was the talisman for a number of years. But he's got them to a league cup semi-final and in recent weeks it's been getting better."
On best players: "Some of the younger boys - Jason Holt, Kevin McHattie and Dylan McGowan. McGowan (Ryan's brother) has slotted in at centre-half and looked as if he's played there all his life. That's the future for Hearts."
On tactics: "Early on in the season they were playing 4-5-1 and they never really had a recognised striker up top. They were struggling because a natural striker makes the correct runs, holds the ball up and links with the midfield. When they brought in John Sutton, with Gordon Smith who's a partner for him, Hearts' season turned the corner a little bit. They got further up the park, the midfield were closer to the strikers, they were getting crosses in the box and there was people in the box to get on the end of them. It was no coincidence that when they changed to 4-4-2 they won three games 2-0."
On best result: "Dundee Utd 1-1 Hearts (Hearts won 5-4 on penalties) in the League Cup."
On worst result: "Hearts 0-1 Dundee. Dundee have beaten them twice now."
On how to improve: "It's very difficult, even with the transfer embargo having been lifted. They can only sign under-21 players and it's on a one in, one out basis. If the transfer window closes without them losing any more players and they can keep the nucleus of the squad together - and play 4-4-2 - I'll be hoping they can progress up the league and hopefully into the League Cup final."
St Mirren - by Chick Young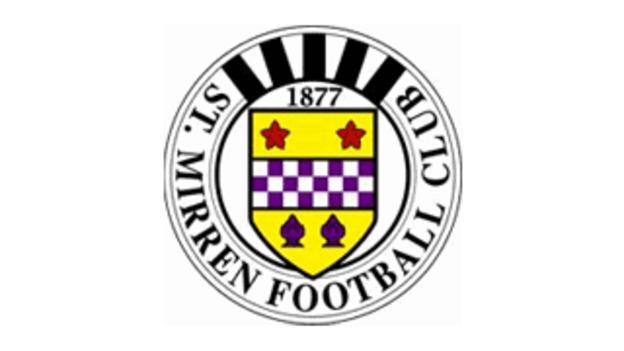 SPL: Played 22, Won 6, Drawn 7, Lost 9
Scottish Cup: At home to St Johnstone in fifth round
League Cup: Play Celtic at Hampden in semi-final
On Danny Lennon: "He wobbled a bit coming into mid-winter but steadied the ship with a fine run of results and should have been named Clydesdale Bank manager of the month for December."
On best players: "It has to be Kenny McLean. This is an easier decision given the injuries to Darren McGregor and Paul McGowan, but Kenny is a lovely player to watch. Why is it that midfielders look much more elegant when they are left-footed? The boy is a class act."
On tactics: "I worship at the altar of the manager's faith in playing the passing game and, even if St Mirren are not quite Barcelona, at least they try to go down that road. However, I notice in recent matches that St Mirren have realised there is a time and a place to get the ball up the park. There was one seminal moment in a game at St Mirren Park when the team passed the ball magnificently away from the corner flag before Paul McGowan was caught in possession in midfield and everyone screamed how wrong it was. But I am still a believer in the philosophy."
On best result: "St Mirren 2-0 Hearts. Goals by Jim Goodwin and Lewis Guy in this September game gave Danny Lennon his first SPL home win of the season."
On worst result: "St Mirren 0-5 Celtic. The win over Hearts had given the team a boost and they were going for their fifth straight home win when Celtic visited but they were taken apart in this SPL match in October."
On how to improve: "Clearly the manager is a victim of the injuries to McGregor and McGowan but I do think St Mirren need to sign a central defender and a striker who is different from Steven Thompson and more in the mould of the departed Nigel Hasselbaink. But as a club, not just a team, Saints are in the hands of the best board of directors in the country."
Ross County - by Charles Bannerman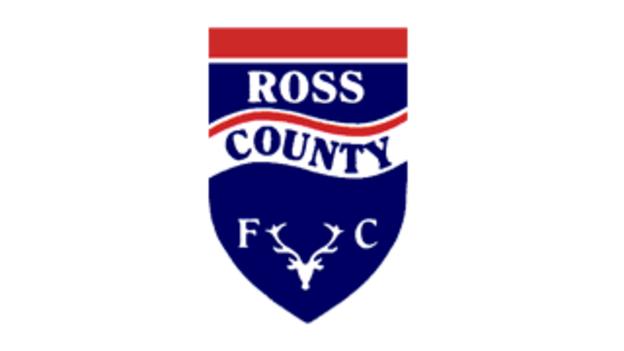 SPL: Played 20, Won 4, Drawn 9, Lost 7
Scottish Cup: Knocked out by Highland rivals Inverness CT in fourth round
League Cup: Thumped 4-1 at home by Raith Rovers in second round
On Derek Adams: "He has found his feet fairly quickly at this level and is continuing to develop as an SPL manager."
On best players: "Iain Vigurs and the soon-to-depart Richie Brittain have really impressed, while at the back Grant Munro, in partnership with Scott Boyd, has provided solid SPL experience."
On tactics: "When County get their passing game right they are a great team to watch."
On best result: "I'll go for a pair. Their back-to-back home league victories over Hibernian (3-2, 20 October) and Aberdeen (2-1, 3 November) have been the powerhouse of this debut half season, but they also did well to come within seconds of beating Celtic in Dingwall."
On worst result: "Probably touch and go between their 4-0 defeat at Celtic Park and their 3-0 reverse at Kilmarnock which probably flattered Killie."
On how to improve: "As the league's new boys they have time on their side and that alone should see them progress - along with their strengthening in the January window. Adams has added to his defensive options by signing the Greek Evangelos Ikonomou and Canada's Andre Hainault, who was with MLS club Houston Dynamo. And on the wing he has brought in Ivan Sproule from Hibs. Don't forget, though, he let four players go last month - defender John Bateson, forward Kurtis Byrne, midfielder Russell Duncan and goalkeeper Joe Malin. "
Dundee - by Billy Dodds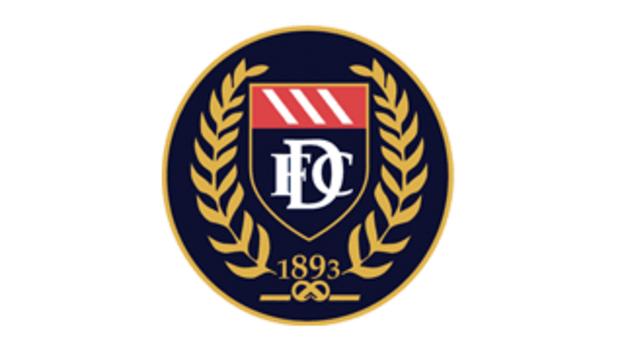 SPL: Played 21, Won 3, Drawn 3, Lost 15
Scottish Cup: Face Morton at Dens Park in fifth round
League Cup: Lost to Queen's Park away in second round
On Barry Smith: "Dundee had no time to prepare for joining the SPL as "Club 12", once Rangers' fate in the top tier was decided. Not only that, but Smith had no idea what kind of budget he had to play with. So many things were up in the air. He has been unlucky with injuries - just look at Mark Kerr, and then there's Stephen O'Donnell out with a groin injury and then a cruciate injury. The Dens Park board have recently said they are completely behind him."
On best players: "I think Mark Kerr is the best player at Dens but he has been hit by injury. Rab Douglas has certainly been the most consistent - but that could be because he is also the most overworked."
On tactics: "They have no superstars. It's as a team that they are going to pick up points, through hard graft and organisation. However, they badly need wins if they are to stay in the league. They will have to play 4-4-2 as they go chasing wins so that offers up the chances for other teams to pick them off. They really need a wee bit of luck."
On best result: "Dundee have beaten Hearts 1-0 on two occasions this season, once at Dens and once at Tynecastle, the latter at the start of September was a very impressive result."
On worst result: "The 3-0 defeat by city rivals Dundee United in August was a sore one for them. It was their third league game of the season and they simply did not turn up at Tannadice that day."
On how to improve: "They have to do what they did earlier in the season when they were adrift at the bottom of the table and clawed it back for a while. They are now nine points behind Ross County, who also have a game in hand, so it will be very hard. However, it's a snowball effect: results breed confidence and confidence breeds results. Also, if they can get a few players in, that would be good. Gary Harkins could be on his way from Kilmarnock and if they could sign a striker with a bit of pace and quality that would definitely help them."