Togo football chief 'selects' Adebayor for Nations Cup
Last updated on .From the section Football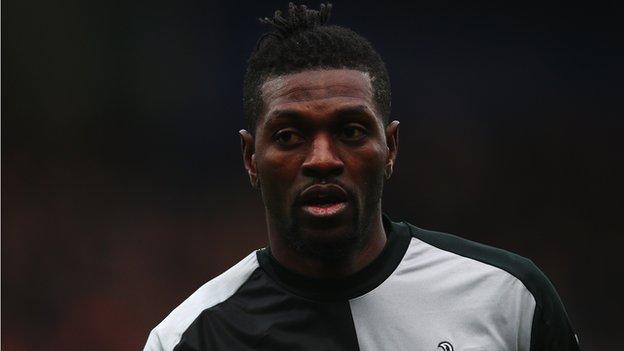 Togo's football federation president suggests he had the final say for the Africa Cup of Nations squad, over-ruling his coach who had left out Emmanuel Adebayor and Kossi Agassa.
Gabriel Ameyi said the Tottenham striker and Stade Reims goalkeeper, Togo's highest-profile players, had been omitted by Didier Six.
"I insisted to Six on taking Adebayor and Agassa, especially after the meeting last week between Adebayor and President Faure Gnassingbe," Ameyi told Togo's Football Federation website.
Six had replaced Adebayor after meeting him just before Wednesday's deadline when he reportedly told the coach he was no longer interested in playing.
Agassa was not included because he said he was injured, Six told French sports daily L'Equipe last week.
"I was surprised by this especially after the meeting Adebayor had with the president," said Ameyi.
"I decided after a brief meeting to change it."
Agassa played for Reims in their Ligue 1 loss to Bastia on Sunday but is set to join up with the Togo team on Monday.
Both players had been involved in a proposed boycott of the side over unpaid bonuses.
Adebayor was persuaded back after meeting Togo's president last week, after which the striker described the running of Togolese football as "sick" and "in need of medicine".
A government emissary was sent to France to speak to Agassa.
Togo's first game at the Nations Cup is on 22 January against favourites Ivory Coast in Rustenburg.