Robbie Savage Talking Tactics: Sturridge and Suarez can flourish
Last updated on .From the section Football

In his regular BBC Sport column on football tactics, Robbie Savage takes a closer look at Manchester United's 2-1 win over Liverpool.
While United dominated in the first half at Old Trafford, Liverpool came back into the game after the break, with Daniel Sturridge's introduction from the bench playing a big part in their revival.
Brendan Rodgers' side were unable to salvage a point but, in their first game together since Sturridge joined from Chelsea at the start of January, we saw how Sturridge and Luis Suarez might link up together for the Reds.
UNITED STOP LIVERPOOL PLAYING OUT OF DEFENCE
Manchester United came out in a 4-4-2 formation, which was a surprise - but it worked. Liverpool were inept in the first half.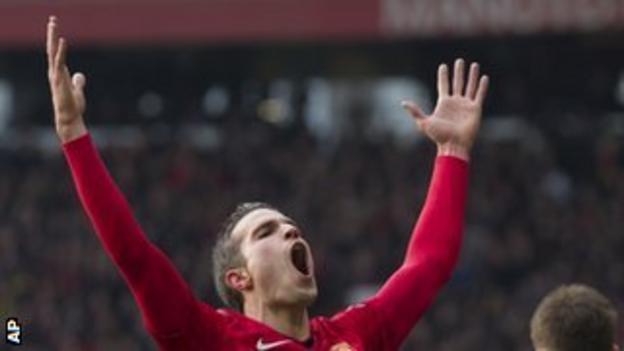 United played high up the pitch and put Liverpool, who were playing 4-2-3-1, under pressure in their own half. When United nicked the ball, they did not have far to go to create a chance.
When I played against Rodgers' Swansea team for Derby, we pressed them really high up the pitch, and forced them into mistakes, which is exactly what United did at Old Trafford.
The way Liverpool want to play out of defence when they have possession is that their two centre-backs split and the two full-backs push up to the halfway line.
Then one of those two defensive midfielders comes to get the ball. Joe Allen, for example, is meant to be the link man between defence and midfield.
Allen is not going to score goals, put in a fierce tackle or even run beyond a team-mate who has the ball, but what he will do in that role is join up the play.
He will operate at the point of a triangle between the two centre-halves, collect the ball off them or the keeper, and either play it to his full-back or knock it forward on the half-turn.
But it was not working out that way for Liverpool. They were pegged back far too deep by United, who were not even playing that well themselves.
Liverpool's two defensive midfielders in that supposed 4-2-3-1 became a trio and, whether it was Steven Gerrard, Joe Allen or Lucas, they were almost level with their own centre-backs when they picked up the ball, instead of being in front of them.
Most of Liverpool's problems were of their own making, through slack passing in those areas, and the reason that was happening was because they were under pressure.
They had so few options in terms of playing the ball forward that they passed it backwards instead, and made errors that left them in trouble. So many times, either Robin van Persie or Danny Welbeck got in on goal that way.
HOW STURRIDGE MADE THE DIFFERENCE
In the first half, Luis Suarez was up front on his own and there were often only two, not three, players supporting him. They were Stewart Downing and Raheem Sterling, and they were anonymous on the flanks.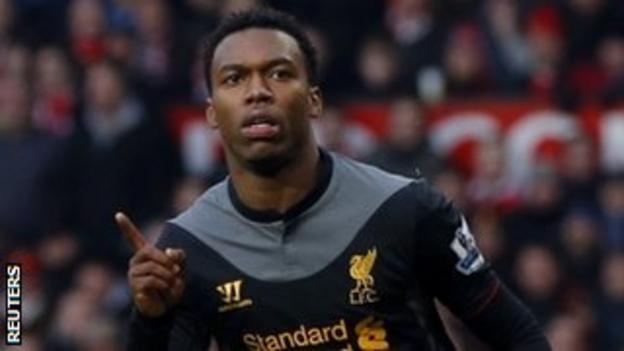 Between them, Gerrard, Allen and Lucas were meant to be taking turns to get forward to join them, but it was just not happening often enough.
But when Sturridge came on for Lucas at half-time, the impetus was suddenly on Liverpool attacking, rather than defending or trying to just get out of their own half.
Rodgers did not change his formation when Sturridge came on, but bringing on an attacking player for a defensive midfielder transformed the team and changed the way the game was going.
They were still playing 4-2-3-1, but with Sturridge as the lone striker and with Suarez behind him in the three, and staying in attack rather than dropping back into defence like Lucas was, they started playing in United's half instead of their own.
Allen and Gerrard were picking up the ball higher up the pitch, meaning Suarez was receiving it higher up the pitch too, and he can still buzz around effectively when he is playing deeper.
They had more players to pick up the ball and hold it up, and got more players into United's box. Sturridge was in the right place to score after David de Gea parried Gerrard's long-range shot.
STRIKER SUPPORT BODES WELL FOR REDS
In the end, I thought Liverpool were unfortunate not to come away with a point. They certainly had enough chances to equalise before the end.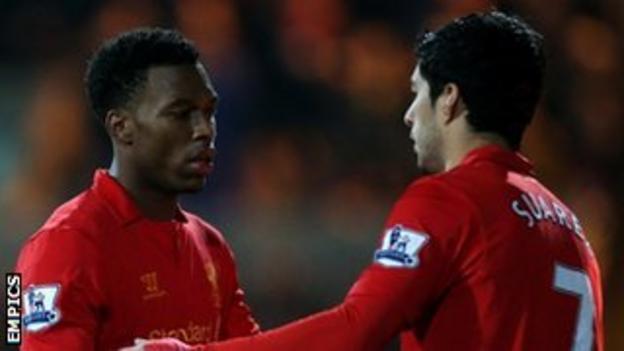 It is easy to say they should have played Sturridge from the start, although they should undoubtedly have been bolder and braver early on.
We saw in the first half why Liverpool have not beaten any of the teams above them in the league - it is because Suarez cannot do it on his own against the best teams. Signing Sturridge means he does not have to try anymore.
People have questioned whether he and Sturridge can play together, and how, but they showed against United how that will happen, and how effective they can be when they combine.
They can play together in Rodgers' preferred 4-2-3-1 formation too. That might mean Gerrard continuing to play as a defensive midfielder for Liverpool but, with his range of passing, he can still play a big role in their attacks.