Vincent Kompany: Tackling gone forever if card stands - Hansen
Last updated on .From the section Football826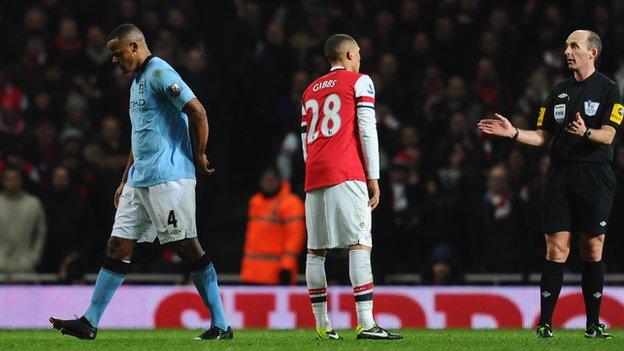 Match of the Day's Alan Hansen feels tackling will be lost to the game if Vincent Kompany's red card is upheld.
Hansen says Kompany's challenge on Jack Wilshere was the "perfect tackle".
And he told the Telegraph: "If Manchester City fail to get Vincent Kompany's red card against Arsenal rescinded it will send out the message that tackling has gone forever."
Kompany was dismissed by referee Mike Dean in the 75th minute having won the ball after going to ground and raised his studs to do so.
The former Liverpool and Scotland defender added: "In my opinion, there is absolutely no doubt that, not only did Kompany win the ball, it was just about the perfect tackle.
"I will be flabbergasted and astonished if referee Mike Dean decides to stand by his decision to dismiss the Manchester City captain following Kompany's challenge on Jack Wilshere.
"I believe that it is an absolute certainty that Kompany will be cleared by the FA, though.
"His challenge was not two-footed and the ball was won cleanly, so I do not understand how the referee could even contemplate issuing a red card.
"It would have been strange to see a yellow card brandished, never mind a red."
Hansen's view is supported by BBC Sport's Robbie Savage, who regularly made similar tackles during his playing days with Leicester, Birmingham and Blackburn.
He said: "Vincent Kompany's red card was completely wrong. If you start sending people off for challenges like that, then the game is gone.
"I would never have been able to have had a career. The law says that it is a red card if a player is reckless or out of control but, if you look at Kompany, then he was in control.
"He did not use excess force, either, because it was a perfectly timed tackle.
"At times, when you tackle your other foot does come off the floor - I must have made over a thousand slide-tackles in my career and don't think there has been a single time where one foot made the tackle and the other stayed on the floor.
"I defy anyone to make a high-speed tackle and keep both feet on the ground - one foot has to come off the floor at some point."
Manchester City manager Roberto Mancini felt the official made a mistake in sending Kompany off and confirmed the club will appeal against the decision.
He said: "We will do an appeal and I think we can win, because it's easy, it is correct.
"But we have a problem because we're missing a lot of players. Now we are losing him for three games, but I don't think we should."
Kompany took to Twitter to defend the challenge on the young Arsenal midfielder.
He tweeted: "If the ball is overrun by the opponent and a 50/50 challenge occurs, [a] collision is inevitable."