Tim Vickery: Jorge Sampaoli brings colour to Chile campaign
Last updated on .From the section Football17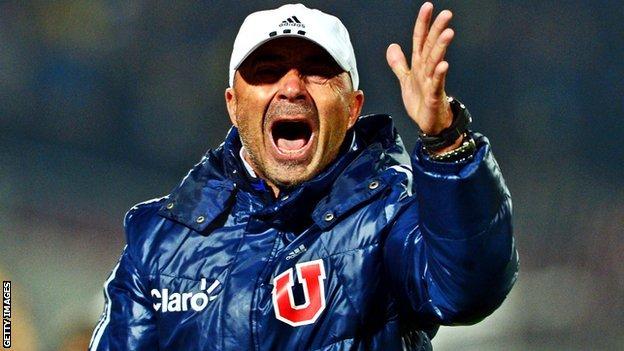 An all-out attacking approach made Chile the neutrals' favourites in the last World Cup - and they promise to provide plenty of entertainment in their bid to qualify for the next one.
This week, with friendlies against Senegal and Haiti, Chile enter a new era under one of South America's most intriguing coaches.
Jorge Sampaoli paces up and down his technical area like some little dog that runs on batteries - and spends much of his time yelping at the referee. He has frequently been sent off for excessive complaints. Famously, on one occasion early in his career, in a low-level game in his native Argentina, he reacted to his expulsion by pacing out of the stadium, climbing a tree and watching the rest of the match from his perch.
But if Sampaoli himself is a show, then his team is the star. Amid constant selling of key players he produced a succession of top-class sides at Universidad de Chile, winning the domestic title three times in a row, claiming the 2011 Copa Sudamericana (the continent's Europa League equivalent) and only falling at the semi-final stage in last year's Copa Libertadores.
Sampaoli seeks to press in the opponent's half of the field, playing high-energy, high-intensity attacking football. It is straight out of the bible according to Marcelo Bielsa, the fellow Argentine whom Sampaoli considers his intellectual mentor.
Bielsa was the boss of the Chile side that performed with such heartwarming ambition in the World Cup in South Africa. Previously, when he was in charge of Argentina, Bielsa's emphasis on speed often brought him into conflict with those more accustomed to the old fashioned, foot-on-the-ball playmaker. He could find no place, for example, for the emblematic Juan Roman Riquelme - a fact which once caused him to be jeered by the entire crowd at a Boca Juniors game.
In Chile, there was no such resistance. Chilean football has never had a well-defined identity. Bielsa was not ruffling any feathers. Indeed, his love of wingers went down well. Chile produces plenty of quick little wide players, ideal for getting round the back of opposing defences in Bielsa's traditional 3-3-1-3 formation.
So two years after he resigned from the national team, Chilean club football is full of Bielsa clones - former assistants such as Eduardo Berizzo and Dario Franco, or disciples such as Sampaoli.
Claudio Borghi was not among them. Even so, he was a perfectly logical choice to take charge of Chile after Bielsa had gone. Also an Argentine, and a member of the 1986 World Cup winning squad, Borghi had worked successfully in Chilean club football and groomed many of the players Bielsa had selected for the national team.
Borghi also had a firm commitment to attack, and favoured a back three. But where his predecessor likes to press high, Borghi dropped his defensive line much deeper. While this opened up more space for his quick, talented players to explode on the counter attack, the downside was that it allowed the opponents closer to the Chile goal - which given the lack of defensive quality in the team was asking for trouble.
Back in June, though, after six rounds of the current World Cup qualification campaign, everything was looking fine. Chile were top of the table, despite having played only two games at home. The warning signs were flashing, however. The side had already conceded 10 goals.
They have conceded plenty more since, going down 3-1 at home to Colombia, losing away to Ecuador by the same score and then suffering another home defeat, 2-1 to Argentina, results that left them outside the qualification slots. Either side of these three reverses they were also heavily beaten in friendlies on neutral ground - losing 3-0 to Ecuador in August and 3-1 to Serbia in November. Immediately after that last game Borghi lost his job.
And so in comes Sampaoli, who combines the philosophy of Bielsa with Borghi's intimate knowledge of Chilean club football. Where the new man might be less confident, however, is with the lack of time that international coaches have to work with their players. Ideally, the kind of concerted pressing that Sampaoli favours needs time on the training ground. If one player does not understand his role then the entire defence can be left wide open.
For all his commitment to attack, improving Chile's defensive record must surely be a priority. A team conceding an average two goals a game is unlikely to make it to Brazil.
Improving the team's disciplinary record is another important task. In recent games key players have picked up silly red cards - one of the team's stars, Arturo Vidal of Juventus, has been sent off in his last two matches for Chile.
Here Sampaoli might find it harder to lead by example - unless he opts to punish those who lose their cool by ordering them to climb trees.
Send questions on South American football to vickerycolumn@hotmail.com, and I'll pick out a couple for next week.
From last week's postbag:
What are your views on Neymar of Santos? Why is he reluctant to go to Europe and join the big leagues and improve his ability? Nadeem Khan
He's a truly outstanding talent, with the balance, speed and variety of options that make him comparable to a young George Best.
He's happy and well paid where he is. But your point is clearly valid. His ability and experience could only be improved by a move to Europe. He has done almost everything he can possibly do in South American club football, and the worrying evidence of 2012 was that he hit a plateau.
He was absolutely devastating on his day, but he struggled every time he came up against a team capable of reducing his space - the type of marking he will meet all the time in Europe. In 2011, he was the outstanding player in the Copa Libertadores. Last year he had four consecutive sub-standard games - both legs of the quarter- and semi-finals.
He gave an interview recently when he made it clear that, while he wants to go to Europe one day, he views a move with apprehension at the moment. I imagine the fear is that he might have initial adaptation problems, and lose momentum on the road to the World Cup. The opposing view is that European experience might enable him to play better in 2014.