Rangers reveal proposal over league reconstruction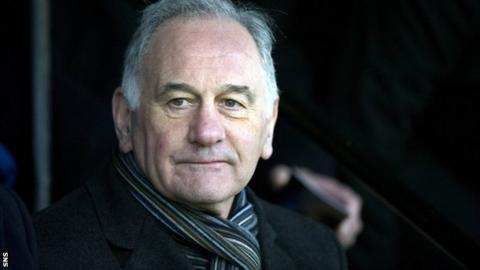 Rangers are proposing three leagues of 14 as an alternative to the 12-12-18 format to be voted on at the end of the month.
Chief executive Charles Green has been critical of that Scottish Premier League-backed proposal.
And he warned against "sleep-walking" into a solution.
"It seems absurd that, when most fans are so implacably opposed to the model, their views are being cast aside," said Green.
One of Rangers' concerns is that, as the likely winners of the Third Division, they would find themselves playing the same teams again next season in the so-called 18-team National League, should the vote for a restructure go ahead.
The new format would mean Rangers would still be in the bottom tier of Scottish football, but their route back to the top would take the same length of time, whether league changes are made or not.
The 12 SPL clubs need a vote of 11-1 to pass the proposal, while the Scottish Football League clubs need 75% of their members to agree to the change.
Rangers, as associate members of the SFL, do not have a vote.
The club does not detail how the three leagues of 14 would operate, but a 6-8 split after two rounds of matches would mean the top teams playing 36 matches (2x13 + 2x5) and a 7-7 split would mean 38 games.
In a statement on the Rangers website, Green said: "The recent widespread debate on the reconstruction of Scottish football has been welcome and I am glad that Ally McCoist and myself have contributed and helped stimulate discussion rather than watch everyone sleepwalk into a solution that very few, if any, football fans across Scotland want.
"To be absolutely clear, it would have been easy for me, on behalf of Rangers, to support this model. There is no model on the table that offers our club a potentially quicker route back to the highest echelons of Scottish football.
"However, I believe that while all clubs have to look out for their own interests, the greater good of Scottish football cannot be ignored.
"I would like to set out what Rangers believes to be a workable way forward that may appeal to fans of all clubs.
"First, we think any reconstruction should be implemented not next season but the following season so that every club knows what it is playing for at the start of the season.
"Secondly, we believe that further consideration should be given to a 14-14-14 model, which can be constructed in a way that ensures there is no loss of games but will deliver greater competition through the leagues, particularly with the implementation of play-offs.
"Finally, I am fully aware of the unique challenges a club the size of Rangers face in Scotland. That is why we must explore all options for the long-term, including playing outwith Scotland."
The authorities should listen to the concerns of fans regarding the current proposals, Green added.