Cristiano Ronaldo wants to see out his Real Madrid contract
Last updated on .From the section Football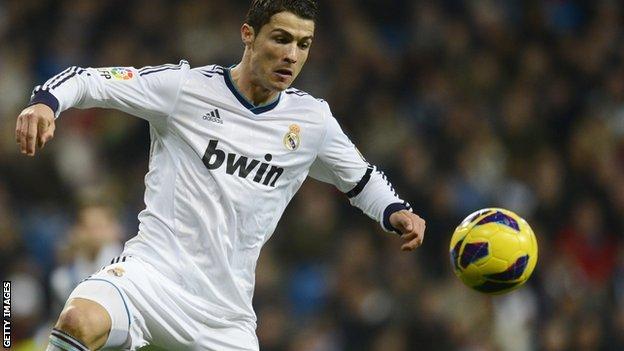 Cristiano Ronaldo says he wants to stay at Real Madrid until his current contract runs out, but admits he is unsure what will happen beyond then.
"I want to see out my contract at Real Madrid - I'm very clear about that," the 27-year-old told Fifa's website.
"After that, well, I don't know what'll happen in the future."
Speaking in an interview at the Ballon d'Or awards ceremony that was published on Fifa's official website on Monday, Ronaldo revealed his plan to stay for at least another two years at Real Madrid.
It comes after he admitted in September that he was "sad" at the reigning La Liga champions.
The Portuguese forward joined Madrid in 2009 in a world record £80m deal from Manchester United.
Ronaldo will face his former side for the first time since his move when Madrid take on United in the last-16 of the Champions League in February.
With Jose Mourinho's side 18 points behind La Liga leaders Barcelona, their main focus will now be Europe's elite competition.
"Every Madridista wants that 10th European Cup - we're more than aware of that," Ronaldo said.
"It's not going to be easy and I reckon the odds are about 50-50, but I'm still very confident.
"Manchester United have started the English championship race very well and are a long way ahead of the rest, but still, if we play the way we're capable of, we can beat them."