Football League Friday: Talking about Tendayi Darikwa
By Paul Fletcher
BBC Sport
Last updated on .From the section Football24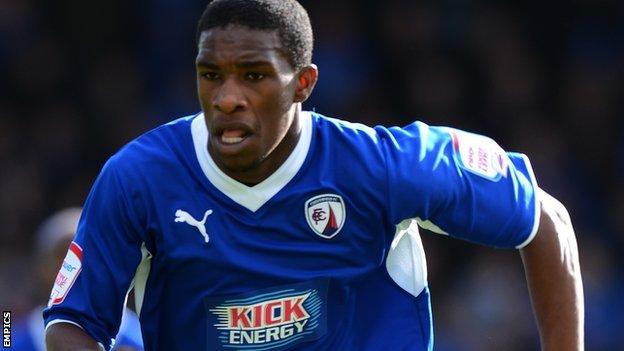 The sizeable press box at Chesterfield's modern new ground is rarely full on matchdays so the club often seat visiting scouts in there.
For the last five fixtures someone from Everton has filled at least one seat in it, there to monitor the progress of Tendayi Darikwa.
The Toffees are just one of several Premier League clubs linked with the 21-year-old, whose rich vein of form has seen him named Football League Young Player of the Month for December.
Darikwa joined the club as a right-back after leaving school at 16 and made his Football League debut last February at Notts County, a ground just down the road from where he still lives with his mother in West Bridgford.
In late September Tommy Wright, now assistant to Paul Cook but back then running the first team following the departure of John Sheridan, pushed him into an attacking position for the trip to Northampton. It was Darikwa's first league start.
"There was nothing particularly tactical about the decision," Wright told BBC Sport. "We had a few injuries and I knew he would work hard.
"Since then he has flourished. What has happened to him over the last six months is massive. It has got to the point where you can see other teams worrying about how to stop him."
Cook took over as manager in late October and shortly afterwards gave Darikwa a new three-year deal.
"I don't think he is very good," deadpanned the affable Cook when asked what he thought of Darikwa. "I think everyone should leave him alone. I think he is going backwards at the minute."
But in truth he readily acknowledges that in a short space of time Darikwa, who usually plays on the right side of an attacking trio behind a lone striker in a 4-2-3-1 formation, has become one of his key players.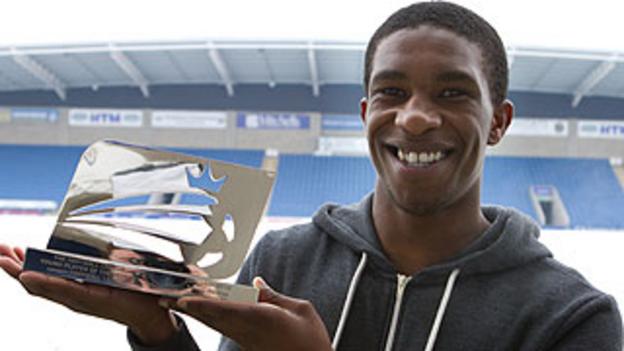 "He is already a very good footballer and he is going to have a very good career," said Cook.
"We all want young lads to be in the team but they must be good enough - and he certainly is."
Darikwa, who had short-lived spells at both Nottingham Forest and Notts County as a junior, was playing football for Ruddington Colts in Nottingham when he was spotted by Chesterfield and joined them on a two-year scholarship.
He had always wanted to be involved in football and applied to go on a coaching course at South Nottingham College before Chesterfield expressed an interest in signing him.
"The biggest thing about Tendayi has always been his desire and his attitude in training," added Wright, who had nothing but generous words for a young man he clearly rates very highly.
"He is very level headed and a pleasure to work with, I wish there were a lot more like him."
Cook reckons that joining a professional club at a relatively late age may have worked in Darikwa's favour, arguing "it can leave you with that bit more hunger desire and scope for improvement".
Wright added: "At Premier League level players do get everything early but Tendayi has had to fight for everything, probably in life as well as in football. We now use him as an example to other kids, tell them to look at how he trains."
In conversation Darikwa certainly sounds level headed, with a temperament that should serve him well if he does fulfil his ambitions of playing in the Premier League. He is softly-spoken and unassuming but there is clearly a huge desire to succeed.
Asked about rumours of interest from top-flight clubs, he said: "You've got to remember I've only played just over 20 league games.
"I have got to be disciplined with my lifestyle and know my boundaries. My social life is quiet."
From the moment Cook arrived he was impressed with Darikwa's fitness and attitude - and reckons that his game awareness and tactical understanding is quickly developing.
Wright talks about Darikwa's ability to come off the line and find space, as well as a physicality that belies his modest frame. Darikwa himself said: "I think I'm exciting to watch, quite direct, but my final ball could be improved and I need to work on my ball retention."
The Spireites were relegated from League One last season and are currently 11th in League Two, six points off an automatic promotion place. Their season hangs in the balance but with the transfer window open for another two weeks, holding on to a key player like Darikwa could be a problem.
Yet Cook, whose lengthy playing career as a midfielder included spells at Wigan, Wolves, Burnley and Accrington, is realistic about the prospect of losing one of his main assets.
"If someone said to me tomorrow that we are selling Tendayi, I would be delighted for him and the club would go on, that is the nature of football," he added.
"If we are selling players then it means we must be doing something right - and generally you get a few quid so it is a win-win situation."
And does Cook think he can keep hold of Darikwa?
"He is a lad we know clubs are looking at, will someone take him soon? That is out of my hands. But certainly as a young player, there will not be many better around the country."
BBC Sport will be taking a closer look at stories from outside the Premier League before every weekend league programme in our Football League Friday features.