Man City will struggle for title with one more loss - David Silva
Last updated on .From the section Football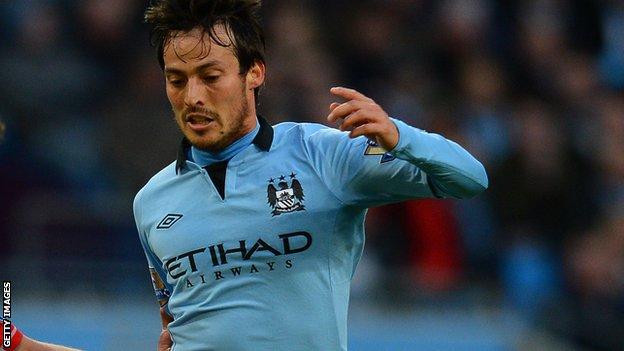 Manchester City midfielder David Silva says the club will struggle to retain the Premier League title if they lose one more game.
United opened up a six point lead over City with a 3-2 win in the Manchester derby last month.
"If we lose, then suddenly the gap is 10 points and that is when it gets really difficult," Silva said.
"But if we keep fighting, we hope that they will falter," added the 27-year-old Spanish international.
During last season's title race, City went eight points behind United following defeat to Arsenal at the Emirates Stadium in April but then six consecutive wins - culminating in Sergio Aguero's stoppage-time winner against QPR - saw City win their first title in 44 years on goal difference.
"All we can do, whatever the gap is, is keep going, every game, and put them under the pressure of knowing that if they lose a game or drop any points, we will get closer to them," added Silva.
"That works the other way, of course, too, because if we lose we will get further away, but we cannot think about that. We just have to continue as we are. The league is still there to be won."