Pompey Trust consider Fratton Park purchase options
Last updated on .From the section Football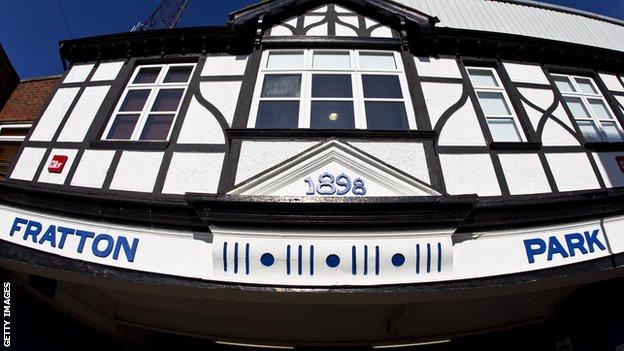 The Pompey Supporters' Trust may renew a bid for a council loan to enable it to buy Fratton Park, a necessary step before a takeover of the club.
A developer had been set to buy the ground and lease it back to the club.
But now, the PST could return to Portsmouth City Council for funds or, alternatively, seek private investment.
"The loan has always been there as a possibility to us in a potential liquidation scenario," Trust spokesman Colin Farmery told BBC Sport.
Fratton Park is currently controlled by former owner Balram Chainrai, who is refusing to release his fixed charge.
However, administrators PKF are attempting to force the sale of Fratton Park via the High Court and if successful, an independent valuation of the ground will then be made.
Chainrai, who says he is owed £12m by the club, wants about £9m for Fratton Park, but the Trust have valued it at only £2.75m, an offer the Hong Kong-based businessman has so far refused to accept.
Last month's court hearing to resolve the ground issue was adjourned until 15 January because of "a significant change in the terms of the transaction relating to REL" and has now been put back to the end of the month to give the Trust more time to agree a purchase, which will then go through when they take control of the club.
REL (Robinson Estates Limited) is connected to property developer Stuart Robinson, one of a number of 'high net worth' individuals working alongside ordinary supporters in the Pompey Supporters' Trust.
He has exchanged contracts for the land surrounding Fratton Park, but will now not buy the stadium as well.
Last August, Portsmouth City Council agreed a £1.45m loan to the PST to help fund their purchase of the club, although once Robinson came on board the agreement was put on hold.
But Farmery told BBC Sport with Robinson now out of the picture, a council loan was still an option.
He said: "Portsmouth City Council agreed to the loan in August and we've been keeping them informed throughout the whole process."
Pompey have been in administration since 17 February 2012, but PKF have agreed the sale of the club to the PST, on condition they take control of Fratton Park.
Trust chairman Ashley Brown has previously said: "Our original wish was to buy Fratton Park ourselves and we are optimistic that we will be able to achieve this, which of course is what the fans want."