Gordon Strachan: Scotland appointment long in the making
Last updated on .From the section Football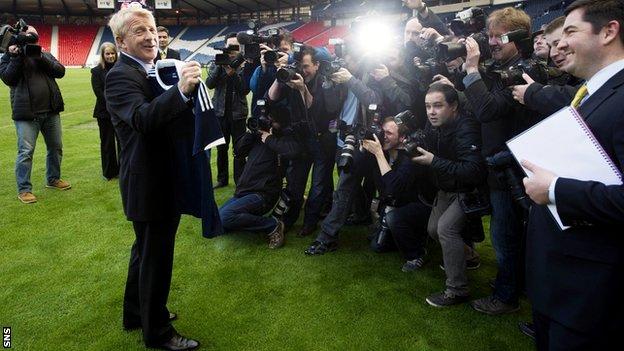 New Scotland coach Gordon Strachan opened his first media conference in the job by saying his appointment had been "40 years in the making".
The passionate Scot accepted the offer to take over the national reins from Craig Levein and insisted his new post was "a great job".
The former Celtic and Middlesbrough boss is faced with improving the results of a national team that has won just three of its last 13 competitive matches.
But the 55-year-old is convinced he can find success with a much-maligned squad without making wholesale changes.
"I made that mistake when I went to Middlesbrough," he told reporters at his inaugural media conference.
"I really should have used the players that were there and used a system for them.
"What I know is that these guys, for all they might get criticised, are the best at what they do.
"They play for Scotland and we have to find a system that suits these players to win games of football.
"We have to find a system that suits the squad here.
"The last couple of games could have gone either way. The Wales game [the 2-1 defeat in October] could have fine well gone to Scotland so we're not far away."
Systems were often an area of criticism during Levein's tenure, including the now infamous 4-6-0 formation deployed in Prague and a reluctance to play more than one striker in home games.
But Strachan played down suggestions the remaining matches in the World Cup Qualifying Group A, of which the Scots are bottom, would be used for experimenting.
"We're going to use the games to try and win. My philosophy is to win games of football," he said.
"We still have to collect as many points as we can and it's disrespectful to say we'll use the games just to improve.
"[My time at Celtic] shows that we can go up against teams with bigger names - individually better players at huge clubs - and you can beat them with a group that all want to go in the right direction.
"Celtic got a result against Barcelona [in November] because they played to their strengths, and the same at Spartak Moscow."
And, on Scotland's chances of performing the unlikely by reaching the 2014 finals in Brazil, he added: "We'll give it a go."
Scottish Football Association Stewart Regan said Strachan's enthusiasm for the job was one of the aspects that impressed them the most.
And the man himself feels "the time is right" for him to lead his country.
"At this time in my life I can deal with this," he explained. "All my experiences have prepared me for this moment.
"It was a job I wanted to do. For a Scotsman, it's a fantastic thing. I played for Scotland then started coaching and thought 'I want to be Scotland manager some day'.
"You don't get easy jobs but the important thing is to make people happy by winning games of football.
"The more successful I am I look around and the more people there are around me.
"Together, we'll look to do something."