FA Cup replay: Laudrup wants more London success at Arsenal
Last updated on .From the section Football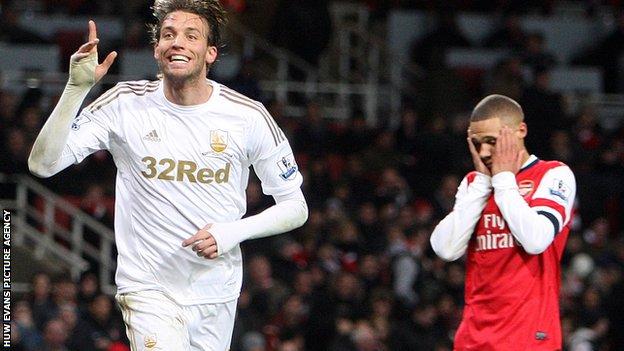 Manager Michael Laudrup will be hoping to take Swansea City's impressive London form into Wednesday night's FA Cup third round replay at Arsenal.
They have also won at Fulham and beat QPR 5-0 at the start of the season.
"I like London. We have only lost to Tottenham. I think we have done really well [there]," said Laudrup.
The 1-0 defeat to Spurs is the Swans only blemish in five trips to the capital this season.
Currently, the Swans, who are ninth in the Premier League, are unbeaten in 15 of their last 17 games including the 2-2 draw with Arsenal at the Liberty Stadium which forced Wednesday's FA Cup replay.
The Swans manager believes that string of results has given a boost to his whole squad.
"We have only lost two games to Tottenham and Norwich and apart from those two the last defeat was at the end of October to the champions Man City away," said Laudrup.
"That gives us a lot of confidence and that's very important because when you make changes even the players who come in they just fit in and feel a part of the team.
"I feel right now that most of the squad feels important to the team.
"Everybody should be fit and that's obviously good news so we can pick from anyone.
"I'm not 100% sure yet what team we will put on… but what I am sure it will once more be a very competitive team.
"This programme we have had and we have in December and January - it's not a question about resting anyone it's a question about using the squad.
"And I think I have done that and I have to say with great success."
But new loan signing, Belgian international Roland Lamah, will travel to London though will not be part of the squad as he was not registered at the time of the first tie.
Arsenal, who have not beaten the Swans in their last three meetings, will be without the injured Mikel Arteta and suspended Laurent Koscielny, but Laudrup conceded it will be a difficult to win again at the Emirates.
"I know we won there in the league but that doesn't mean we can do it again," he warned.
"They have a good squad. They are a team who haven't won anything for… many years. They will do everything [to win]. We already saw in the first game they came with the best squad."