Manchester City defender Vincent Kompany's red card overturned
Last updated on .From the section Football720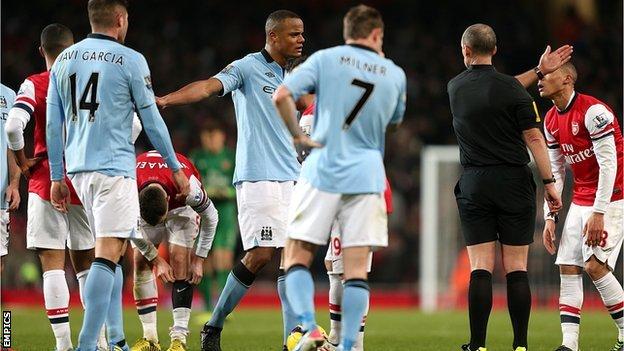 Manchester City have won their appeal against the red card shown to captain Vincent Kompany in the second half of the 2-0 victory over Arsenal.
The centre-back was dismissed by referee Mike Dean for a tackle on Jack Wilshere but the Football Association has overturned the decision.
Kompany, 26, had defended his challenge in the aftermath of the game.
He tweeted: "If the ball is overrun by the opponent and a 50/50 challenge occurs, [a] collision is inevitable."
A FA statement read: "An Independent Regulatory Commission has upheld a claim of wrongful dismissal regarding Manchester City's Vincent Kompany.
"The defender was dismissed for serious foul play during his side's match against Arsenal on Sunday 13 January 2013.
"As a result, Kompany's three-match suspension has been withdrawn with immediate effect."
City decided to press ahead with their protest after boss Roberto Mancini said Kompany had been the victim of a "big mistake" by Dean.
"It was no sending off," he told BBC Sport after the game. "He went into the tackle with one foot in front and the other behind.
"I think that the referee did make a big mistake."
Despite winning the ball in the 75th minute, the Belgium international was adjudged to have committed a reckless tackle.
Although he disputed the call, Kompany refused to blame Dean.
"No grudges against the referee, I understand the difficulty of the job," he further tweeted.
"Ultimately I'm a defender: Appeal may work or not. I will never pull out of a challenge, as much as I will never intend to injure a player."
Kompany would have faced a three-game suspension against Fulham and QPR in the Premier League, either side of an FA Cup fourth round fixture against Crystal Palace or Stoke.