Coleraine boss Oran Kearney says his team lacked fight
Last updated on .From the section Football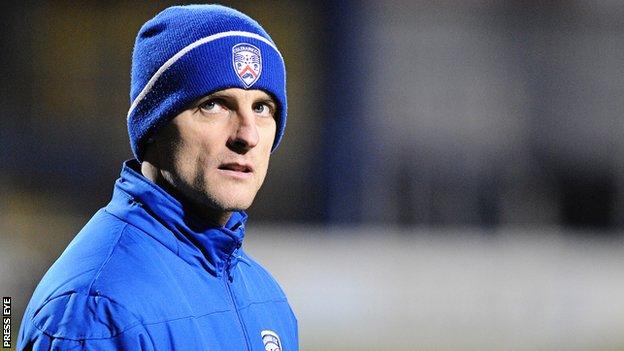 Coleraine boss Oran Kearney has strongly criticised his team following Tuesday night's 5-1 hammering at the hands of Ballinamallard United.
Kearney said it was the type of display which would make a manager think about tendering his resignation.
"I did not like what I saw. The manner of the whole second half was disgusting to be honest," said a dejected Kearney.
"There was a decent turn-out for such a cold night and all I can do is apologise to the fans."
The defeat was Coleraine's third at home in the league this season and saw them slip to sixth in the Premiership table.
Ballinamallard's first goal came after a penalty decision which disappointed Kearney.
However, he added: "The penalty was soft, but it should not have caused the carnage and disarray it did.
"To fall apart at the seams was just embarrassing. It would make you tender a letter of resignation very quickly.
"It is a mental thing. I am fed up until I am blue in the face telling them that playing in this league is about mental strength.
"It is not all about nice touches and nice pitches, playing flowing football.
"On a night like that and a pitch like that, it was about fighting for your life - but we did not have any warriors out there, apart from Joel Bradley probably."