Man City: Vincent Kompany red card reversal correct - Haaland
Last updated on .From the section Football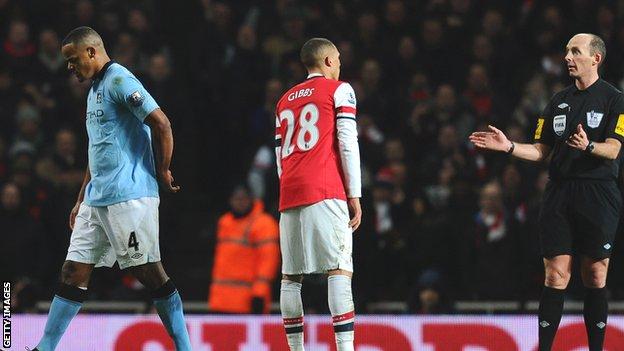 Former Manchester City midfielder Alf-Inge Haaland has said the Football Association were right to rescind Vincent Kompany's red card at Arsenal.
for a two-footed lunge on Jack Wilshere during Sunday's 2-0 Premier League win.
But after a successful appeal, the centre-back will
"It didn't think it was a red card. Obviously the referee made a mistake and luckily the FA have reversed it," Haaland told BBC Radio Manchester.
"The problem is - what if it happened early in the game? It could have been a different outcome to the game then."
Haaland's playing career came to a premature end in 2003, two years after he was the victim of a dangerous tackle from United captain Roy Keane during a Manchester derby.
The Norwegian, who also played for Nottingham Forest and Leeds United, never played a full 90 minutes again following the incident.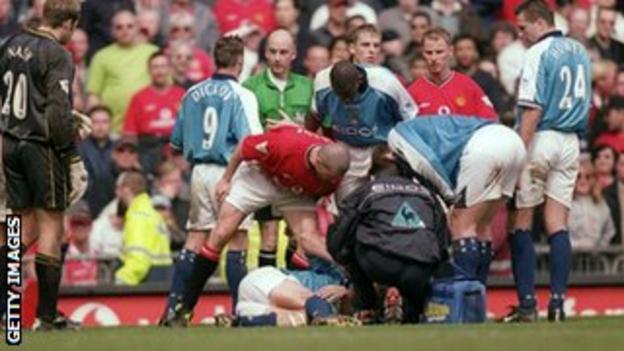 Haaland, now 40, acknowledges that football has changed almost a decade on from his retirement, but he is concerned that officials and the authorities are taking too firm a stance on strong tackling.
Speaking to Radio Manchester's Blue Tuesday programme, he continued: "Football is a man's game and you should be allowed to have a nibble at each other.
"I think it's going in the wrong direction. If you can't do tackles like that [Kompany's] it's going to ruin far too many games.
"I played with David Batty at Leeds and he would been sent off every single game if he was playing now.
"You have to tackle in a different way and you have to be more careful. You have to adapt to the rules.
"When referees don't have that football understanding - if they haven't played to a high level themselves, if they don't always understand what's a good tackle and a bad tackle - that's a frustrating thing for the players.
"If you're going to be sent off after 10 minutes, it ruins the game. There are millions out there watching and you've got to be certain, as a referee, if you're going to show a red card."