Leeds United boss Neil Warnock needs funds - Norman Hunter
Last updated on .From the section Football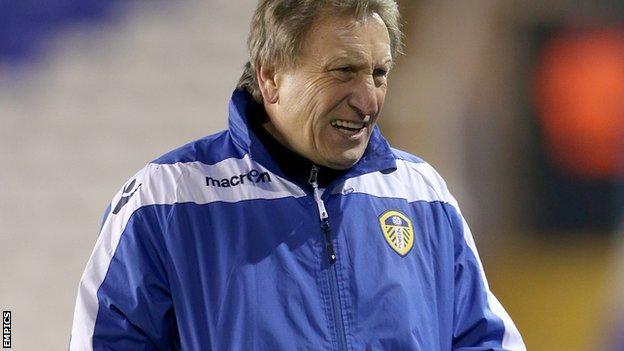 Leeds United legend Norman Hunter says manager Neil Warnock should be given money to improve his squad in the January transfer window.
Hunter played for Leeds between 1962 to 1976, helping the club to their first ever league titles and FA Cup win.
"You don't get the number of promotions Neil has got if you are a bad manager," he told BBC Radio Leeds.
"His teams aren't pretty but they're effective and he needs some money to spend before we can judge him."
"We just need a bit more quality and players who are better than what we already have. I'd like to see one or two people come in.
"We're not far off and it isn't easy but we need a bit more if we are going to get in the play-offs."
The Elland Road side, who will also face Tottenham in the FA Cup fourth round after beating Birmingham City in their third round replay, are currently five points behind sixth-placed Watford.
GFH Capital completed their takeover of the club last month and said they would support the manager but that January was "not a great time to do business".
Meanwhile, Hunter, who is selling his Leeds memorabilia at auction, says his one regret from his time playing for the club is that he never lifted the European Cup.
The 69-year-old played for the club during their most successful era but the closest they came to winning Europe's most prestigious competition was defeat by Bayern Munich in the 1975 final.
"The only thing I'm disappointed about is that there's no European Cup medal in there," he continued.
"Someone asked me if I was selling my shirt from that game but I honestly don't know where it is. I was that upset that I don't know what I did with it.
"Medals don't mean that much to me. For me it was about being at Leeds United and playing with that group of players and staff, it was magic."