Zambia coach Herve Renard happy with champions' build-up
Last updated on .From the section Football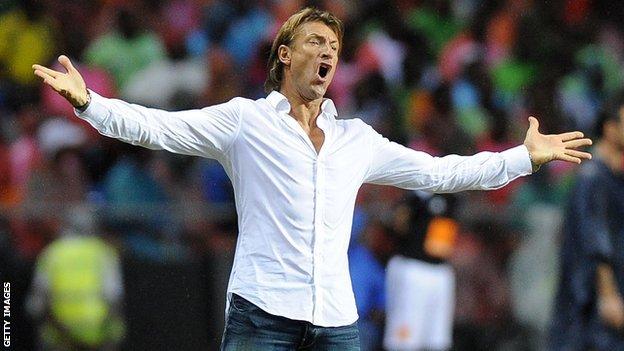 Zambia coach Herve Renard believes Zambia are in better shape than last year, as they prepare to defend the Africa Cup of Nations in South Africa.
The Zambians kick off their campaign on 21 January against Ethiopia, on the back of three defeats and a draw in their warm-up games.
But Renard, who guided the team to their first Nations Cup last year, is happy with his side's build-up.
"I think we are better than last year at the same stage," he said.
"At the same stage [last year], I was very, very concerned. All our warm-up games had been poor.
"But look what happened then - we had nothing to show for ourselves and we won the tournament.
"I am lucky to have such a squad."
Zambia drew 0-0 with fellow finalists Morocco in a friendly in Johannesburg last week, halting a three-match losing streak, following defeats by Angola, Saudi Arabia and Tanzania.
Renard, however, claims he is not worried by the side's poor run of results in their warm-up games.
"The game against Angola was a last-minute friendly. We were in the same hotel and scheduled the game one day before only, with all 23 players being fielded at some point," he said.
"Against Morocco we played well but we just lacked efficiency."
The French coach also acknowledged that his team will be in the sights of tournament favourites Ivory Coast and Ghana.
"We can't hide, we are the defending champions," he said.
"We can't say we are the favourites. Everybody would laugh if I said that. Ivory Coast and Ghana are the favourites."
Zambia face Nigeria and Burkina Faso in Group C, after their opener against Ethiopia.