Tackling: Why referees face dilemma over red cards
Last updated on .From the section Football257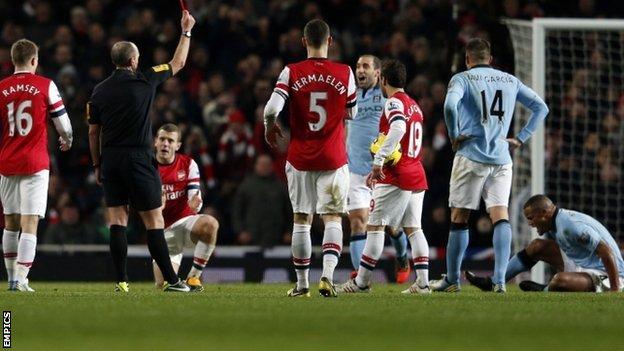 Tackling is a big talking point in football after Manchester City centre-back Vincent Kompany won his appeal over the red card he received against Arsenal on Sunday.
Referees privately believe overturning that decision has caused renewed confusion, while some former players have suggested a hard line by officials has rendered tackling in football a dying art.
Here, we examine some of the issues referees face when making decisions and the steps taken to keep players informed of the rules - and discover that the number of tackles in the Premier League has dropped significantly in recent years.
What is the issue?
Belgian international Kompany was sent off for serious foul play for the incident with Wilshere.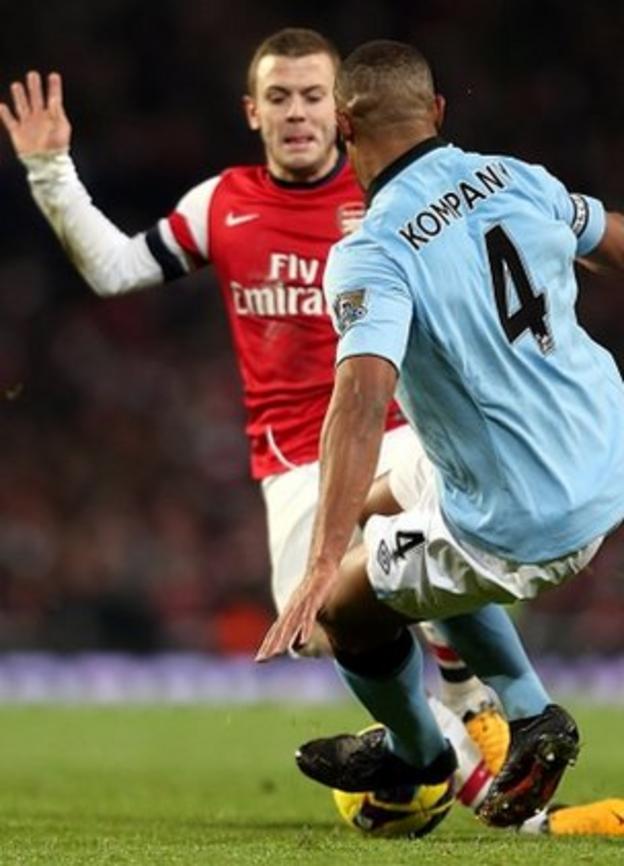 From one TV camera angle, it appears both his feet left the ground and he went in with a two-footed tackle. Other angles show a low challenge where he leads with his left leg and wins the ball.
Former top referee George Courtney said: "At the time, I thought Mike was spot on, and he was only five or six metres from the situation.
"One big problem referees have got is that we have so many cameras now looking from different angles but Mike Dean can only look from one angle.
"Cameras give referees nightmares at the top level and it's a real problem. Referees will give what they see.
"The appeal tribunal appears to have declared it was not a two-footed lunge and wasn't a tackle using excessive force so therefore the red card was rescinded."
Kompany, 26, defended his challenge, saying on Twitter: "If the ball is overrun by the opponent and a 50/50 challenge occurs, [a] collision is inevitable."
The Football Association overturned the decision after a three-man panel decided there had been "an obvious error" - before this season, appeals could only be successful if there was a "serious and obvious error".
Three other players have had their dismissals reversed in the last month - Steven Nzonzi of Stoke, West Ham's Carlton Cole and Everton's Darren Gibson.
What is the law?
Tackles are covered by Rule 12 of the Laws of the Game where foul challenges are broken down into three sections:
Careless

- Player has shown a lack of attention or consideration when making a challenge or acted without precaution. No further disciplinary sanction is needed if a foul is judged to be careless

Reckless

- Player has acted with complete disregard to the danger to, or consequences for, his opponent. Must be given a yellow card

Excessive force

- Player has far exceeded the necessary use of force and is in danger of injuring his opponent. Must be sent off
What guidance is there?
New guidance was issued to clubs, players and managers around four years ago which said two-footed challenges were in danger of getting a red card.
This was reiterated in February last year after referees' chief Mike Riley - the general manager of Professional Game Match Officials Limited - met the Professional Footballers' Association, League Managers' Association, match delegates and officials.
It followed a series of high-profile dismissals in early 2012 - including that of Kompany for a tackle on Nani in his side's FA Cup defeat by Manchester United. (That time, the red card was upheld on appeal.)
While the rules remained the same, detailed written guidance was sent to clubs, along with a DVD that demonstrated the difference between careless tackles, reckless challenges and those using excessive force.
"The consensus was that there will always be tackles that are borderline but it's important to return to the message that the players have consistently had over the last three years," said Riley at the time.
"That message is that if you commit to a tackle that's at speed and with intensity, typically with both feet off the ground, then you put yourself at risk of being sent off.
"We know that 70% of tackles are clean and 25% are fouls which are careless and require no further action. That's great credit to the skill of the players and the responsibility they take towards their opponents."
In addition to written guidance, referees also go into Premier League clubs at the start of each season to give a presentation to players on the rules, and in a new development are asked to referee a players' training session.
How do referees feel?
Referees meet the managers and captains of Premier League clubs about an hour before kick-off when team sheets are exchanged, and this weekend they are braced for questions about the Kompany incident.
A source close to the referees' group said officials felt frustrated by his red card being overturned.
"If you consistently give one message to players and a decision is made that contradicts that, it creates confusion," he said.
But Courtney, who was a referees' assessor for nearly 20 years until June 2011, believes officials will be philosophical.
"Our referees are in demand all over Europe. It's not all doom and gloom. They still get the vast majority of decisions right," he said.
"Although red cards have been rescinded, our referees are basically very honest officials. I defy anyone to say otherwise."
Is tackling a dying art?
The total number of tackles in Premier League matches has dropped significantly in the past few seasons.
There has been an average of 38 tackles per game so far this campaign, compared with 47 in 2006-07, according to statistics from Opta.
West Ham manager Sam Allardyce said: "We don't coach tackling any more. That's rather sad. We teach stay on your feet. We teach, pinch, nick, intercept.
"Now they are saying that even if the tackle is a perfectly good one, if it's ferocious in their eyes or is done with too much force, then that is still a booking or a sending-off. Well that's ridiculous."
Former England and Manchester United centre-back Gary Pallister, who won 22 England caps between 1988 and 1996, says attitudes have changed.
"That tackle by Vincent Kompany at the weekend wouldn't have been a yellow card 15 or 20 years ago," he told BBC Sport.
"He's led with the foot to go and play the ball. Back in my day that would have been seen as a great tackle and a chance to let the attacker know you are there.
"Every tackle with both feet raised off the ground is deemed to be reckless. Referees have a hard job because that's the remit they've been given.
"It's not a dying art but players are more careful. They look at things and decide not to go into tackles.
"Timing a tackle is still a great skill in the game but I think it leaves defenders having second thoughts about what to do."
Courtney, who officiated at the 1986 and 1990 World Cups, said referees were "operating in a different climate".
"The old-fashioned sliding tackle has largely disappeared at the top level. The game relies much more now on pace and athleticism. A defender catches a forward moving at pace and it exacerbates things," he said.
Is there a better way?
Video referrals could provide more clarity in decision-making, according to Pallister.
"In that period when the referee is making their decision, during all the hullabaloo, it takes two or three minutes for the player to get off the pitch and everything to calm down and restart the game," he said.
"I think we could use video referees, someone up in the stand, to review these decisions, and penalties and balls going over the line, but we seem to be totally against it and I think we are suffering for it."
Football's governing body Fifa opposes the use of video and there are technology issues to overcome as well.
But Pallister said: "There's lots of things we can use to help the referee. I think the fans would rather see the right decision than human error sometimes deciding what happens in games.
"It is a grey area to decide between what is reckless and dangerous and what is a fair attempt to get the ball. I think it needs some kind of clarification.
"I'm sure Vincent Kompany didn't think he did anything wrong but the referee has deemed it to be highly dangerous. You can't have two extremes like that."