Aldershot Town: Chairman Kris Machala seeks new investment
Last updated on .From the section Football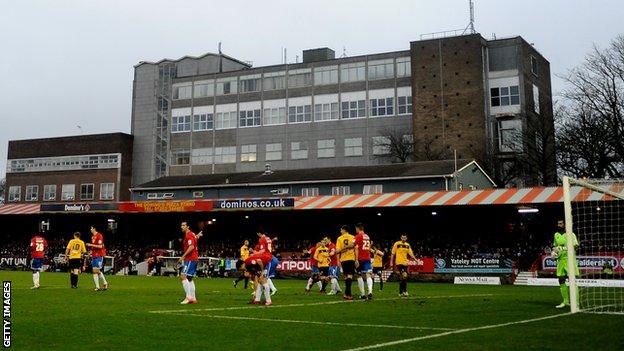 Aldershot Town owner and chairman Kris Machala says talks are underway with potential new investors as he looks to safeguard the club's future.
Machala has had to make cuts at the club because of falling attendances.
"We have had some offers that are not suitable for the club. I refused them.
"We are still looking around and it might come from unexpected sources. We are in talks at the moment so we will see what the future will bring," he told BBC Surrey.
"I am trying to attract other people to put money in and we need some help from supporters and individual to secure the club's future. We are not looking for new ownership.
"The club belongs to the fans in my opinion, although I have the majority of the shares."
Machala said the League Two club's finances had been affected by a drop in gate receipts at the EBB Stadium this season.
Their average home league attendance is 2,120, with their lowest gate coming when 1,760 fans attended their match against Barnet in September.
"We have to take action because of the falling attendances and have to cut our cloth according to the economic situation," Machala continued.
"We have lost income from tickets and we have to restructure and make cuts to go forwards, otherwise there will not be a Football League club in the town.
"It happened on two or three occasions that income from tickets was less than our cost of staging the match."
Machala believes the team's position in the lower reaches of the table this season has been a factor.
"We were losing matches and people didn't want to come. It's a vicious circle," he said.
"If people don't come that affects our financial position, but if we have lower attendances we have no money to improve the level of football."
Earlier this week assistant manager Matt Bishop left the club, chief operating officer Richard Low joined Crawley Town last month while the company secretary and marketing manager have also parted company with the club as the board looks to reduce running costs
"I don't think there is any immediate danger of the club going into administration but it would be if we don't make the cuts.
"We have stabilised the financial situation and the cashflow is mainly positive," said Machala.
He joined the club's board in 2009 and became chairman a year later, a role he insists he only accepted reluctantly.
The Polish-born businessman took a controlling stake of 51% after injecting more money into the Hampshire outfit in 2011 and says he his health has suffered since becoming chairman.
"I had to remortgage my house to make sure the club existed.
"I only became the owner because there was a need to inject money.
"It is a vicious circle for me too. I didn't want to be chairman or owner. There is a lot of pressure on my shoulders.
"Fans express their opinions and it seems everybody knows how to run the football club, apart from the people who [do] run it."
He added: "I want to go into the background a bit and don't want media exposure.
"I want other people to come in and invest money."