Pep Guardiola: Premier League giants must watch from afar
Last updated on .From the section Football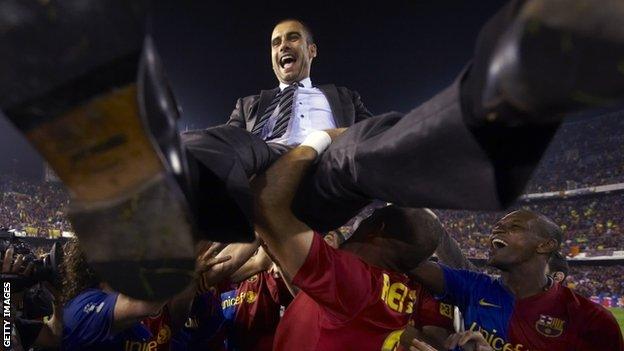 Pep Guardiola had hoped to leave football behind when he moved his family to New York last summer.
The Spaniard had been worn down during four glorious years with Barcelona. He was tired, weary and chose the city that never sleeps as the place to freshen his mind and recharge his batteries.
Guardiola has enjoyed the relative anonymity afforded to him in Manhattan. He has stood inside the ropes at the Ryder Cup, blended into the background at the US Open tennis final and walked his children to school around the corner from the family apartment at Central Park West and 92nd Street.
But football has never been far away. The most powerful clubs in the Premier League have watched his every move, they have even followed him across the Atlantic, to court and flatter. But the news he has chosen Bayern Munich ahead of the riches on offer in England means those clubs in question must continue to watch from afar.
"It didn't come as a total surprise to me," former Bayern Munich midfielder Dietmar Hamman told BBC Sport.
"He could have taken his pick of the biggest clubs in the world, but even with so much interest from England he has chosen Bayern and that is a coup."
Only Chelsea and Bayern had been bold enough to make Guardiola firm offers, rather than promises. But as recently as last week, those close to him had suggested it was still a three-horse race between Bayern, Chelsea and Manchester City.
Chelsea's interest has been well-publicised. When their billionaire owner Roman Abramovich decided Roberto Di Matteo was no longer the manager he wanted, Guardiola received a phone call. Would he cut short his sabbatical? Would he now be prepared to take charge at Stamford Bridge? The answer was no.
Chelsea were not alone, though. Manchester City appointed Ferran Soriano as their chief executive, Txiki Begiristain as director of football - both men close confidants of Guardiola's at Barcelona. The suggestion was that City wanted to reunite all three at the Etihad Stadium. But that will have to wait.
Sir Alex Ferguson also made the journey across the pond. The Manchester United manager, who owns a property near Central Park, accompanied his chief executive David Gill for dinner with Guardiola in New York last September. Both Ferguson and Guardiola had been present to see Andy Murray win his first grand slam at Flushing Meadow. They are friends, there is a mutual admiration.
The dinner meeting sparked rumours of succession plans and coronations. But although there is no question that Ferguson admires the Spaniard, having watched first hand as Barcelona's passing carousel has twice left Manchester United dizzy in European Cup Finals, the timing is not right.
The Scotsman is not yet ready to walk away, it remains to be seen whether he might, come the time Guardiola's contract with Bayern Munich expires in 2016. It is an intriguing possibility, nothing more.
Few predicted the move to Germany but former Bayern and England midfielder Owen Hargreaves said: "People look at the glamour and the global appeal of the Premier League but in terms of quality of players, facilities and stadiums, Germany is the right destination for him.
"Bayern is the Manchester United of Germany - both are the biggest clubs in their country and Bayern are up there with the top five clubs in the world."
Guardiola's decision is likely to prompt a rethink in a number of Premier League boardrooms. Chelsea are perhaps the one club which will feel the setback most keenly.
Abramovich's obsession with the former Barcelona coach has been well-publicised but the affection has never been reciprocated. The situation now is delicate and unclear - does Abramovich wait and see whether Rafael Benitez continues his success with Chelsea and then appoint him full-time.
Or does he consider the possibility of luring a Special One back to Stamford Bridge?
Roberto Mancini's position at Manchester City is not in question at present but nor is his presence at City guaranteed beyond the summer.
With or without Guardiola, the rumour mill will rumble on and on.
But one thing is certain. Whatever Guardiola does in Germany, you can be sure the Premier League will be watching.