Frank de Boer predicts Bayern success for Pep Guardiola
Last updated on .From the section Football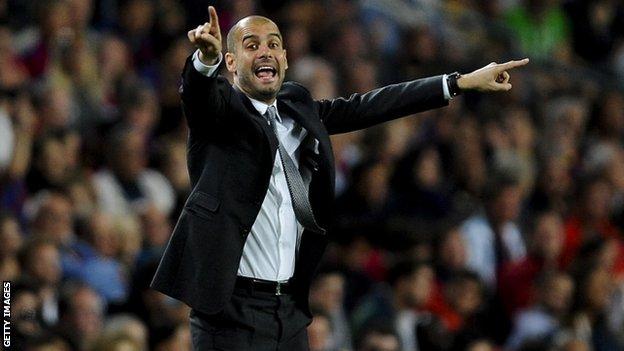 Bayern Munich's announcement on Wednesday that Pep Guardiola is set to become their new manager took many by surprise, not just in England but the rest of Europe too.
Instead the 41-year-old is Bundesliga-bound, and hoping to follow his trophy-laden spell as Barcelona coach by building a similarly spectacular era at German giants Bayern.
Guardiola's old Barcelona team-mate and current coaching confidant, Ajax manager Frank de Boer, was shocked when he heard the news, telling BBC Sport: "I thought he wanted to come to the Premier League."
So, why exactly is Guardiola going to Germany and, other than the fact that he is joining a team that are four-time European champions, how did the Allianz Arena appeal?
"I think it will be down to the structure of the club," De Boer told BBC Sport.
"I speak to former Bayern coach Louis van Gaal and he always says it is a very professional club, a well-run club, with the same kind of philosophy as Barcelona. So they will understand what Pep will be trying to do.
"As far as the Bundesliga goes, it is a very interesting league and definitely on the up. Maybe it is passing La Liga, and it passed Serie A a long time ago.
"I think maybe with the crowds they get, it is up with the Premier League. The atmosphere in the stadiums is best in England, but in Germany it is similar."
If Bayern does prove to be like Barca, then Guardiola will be right at home.
The Catalan spent the first 18 years of his playing career at the Nou Camp, joining at the age of 13, learning his trade under former Dutch international and Barca legend Johan Cruyff and taking more inspiration from Van Gaal, whose pressing and passing Ajax team of the mid-90s provided Pep with much of his coaching model.
But Guardiola picked up more from those Dutch masters than a propensity for possession football and enough pretty passing to take your breath away.
De Boer, who began discussing coaching with Guardiola when they were team-mates at Barca from 1998 to 2001, refers to his friend's approach as 'the hand of Guardiola', by which he means a focus on discipline as well as individual skill.
Another key element of Guardiola's make-up is his vision for his club, perpetuated by his belief in Barcelona's La Masia academy, which provided seven of the starting XI in the team which beat Manchester United in the 2009 Champions League.
Can he replicate that at Bayern? The Bavarians already have had some success at bringing stars like Thomas Mueller and Philipp Lam through the ranks but De Boer, who has spoken to Guardiola regularly since he began his own coaching career in 2007, thinks there is room for improvement.
"There is a youth programme there, which is OK, but I think Bayern can still build on it," De Boer, who takes a particularly hands-on approach to working with young players at Ajax, explained.
"If you look at the kind of players who have come from their youth teams and who are playing in their first team then I think they can do more with their programme.
"But we don't know yet what their plans are for the academy or what plans they have got for Pep. He might be overseeing that as well or he might be only concerned with the first team. We will have to wait and see."
One thing De Boer is sure will be the same in Germany that it was in Spain is the way Guardiola's team will play - full of flair going forward, and full of industry tracking back.
"He might adapt it but it will not change much," De Boer said. "I know him well and he is a smart guy so he will always look at what kind of players he has, and from there he will get the best concept to play."
Comparisons with Barca will undoubtedly be drawn, but mainly in terms of trophies won rather than playing style or youth development. Guardiola collected 14 of them in his four seasons at Barca, including three La Liga titles and a double Champions League success.
That lorry-load of silverware still left some claiming that Barca's brilliance is down to Lionel Messi. Certainly, they have not missed Guardiola too much since he left last May - under his successor Tito Vilanova they have built an 11-point lead at the top of La Liga.
But De Boer says those who doubt Guardiola's influence are wrong,
"Of course he had good players at Barcelona but he showed us the 'hand of Guardiola," said De Boer. "I am 100% convinced of it.
"I think he will do the same at Bayern. You can never know for sure if he will succeed and I don't know if he will win as much as he did with Barcelona, but you can already see that there will be a Guardiola team playing to win the Champions League next season."